Shutterstock / Eugene Partyzan Shutterstock / Eugene Partyzan / Eugene Partyzan
NOW HERE'S A kid who knew what they wanted and exactly how to get it.
Redditor Sionn3039 said he was rifling through his girlfriend's 'baby book' at her parents house when he found this very official memo.
"My girlfriend was a bit formal as a child," he wrote.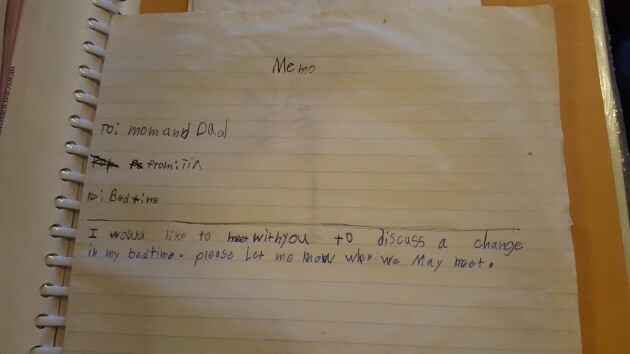 Imgur Imgur
To: Mom and Dad
From: Tia
To: Bedtime
I would like to meet with you to discuss a change in my bedtime. Please let me know when we may meet.
Tumblr Tumblr
Tia wasn't the only kid who liked to get everything in writing, however – other Imgur users began sharing their early organisational tendencies:
I used to draw up contracts for my parents to sign, sometimes with amendments. My mom recalls it as "really damn annoying".
When I was 12 my dad offered to pay me to help organise files. He was out of town the next week, so I sent him a bill and then a late notice.
No doubt each of these children grew up to be leaders in the world of business. It was written in the stars.