THERE'S KIM KARDASHIAN, in for a dip, but not quite in the nip.
Lovely.
She's been away paddle-boarding on the Turks and Caicos Islands the last few days, probably as a way of winding down after her mad successful KKW Beauty launch with her best friend Mario.
Of course, fans of Keeping Up With The Kardashians couldn't help but consider some other possibilities.
Like … That she's looking for the diamond earring she lost during a family vacation in Bora Bora.
Samantha Kristie Caesariana / YouTube
The clip gave birth to this meme courtesy (kourtesy?) of Kourtney: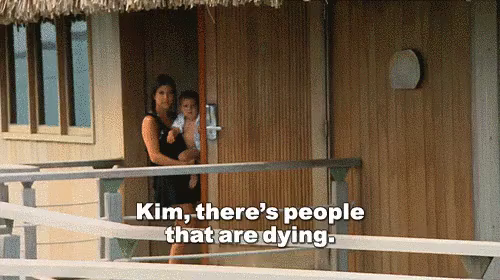 So, it's safe to say it's iconic – how could people forget that?
The joke's on them though, because Kylie actually found the earring not long after Kim had a good weep about it for our entertainment.
In an interview with Buzzfeed, Kylie confirmed that she swam to the bottom of the ocean to get her sister's $75,000 earring.
It was pretty deep, but there [weren't] a lot of waves and Kim kind of, like, threw a tantrum immediately when she found out that she lost it and I was like, "No. This is fine!"
I went under there and it was saltwater so it kind of hurt to open my eyes, but I just opened my eyes and looked around and I saw something shining. Swam all the way down there — it was, like, 10 feet — picked it up, and it was the shining diamond! I literally found it in two minutes."
DailyEdge is on Instagram!