KIM KARDASHIAN AND her boyfriend Kanye West have had a pretty busy weekend.
Kanye is getting ready to drop his new album on Tuesday, the modestly titled Yeezus and even treated Dublin to some projections of it this weekend: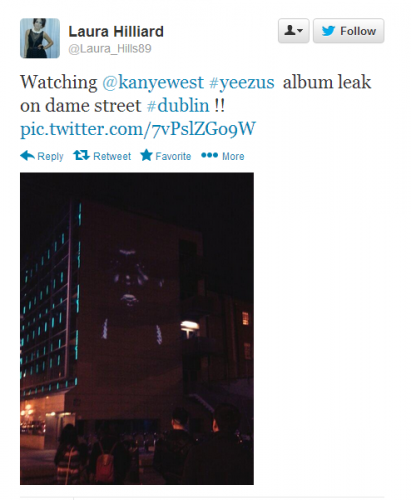 But his lady love Kim Kardashian is the one that has everyone talking since she gave birth to their first child together on Saturday.
Kim gave birth at Cedars-Sinai Medical Center, five weeks earlier than expected.
According to E! News she "delievered the baby girl naturally and both mother and baby are happy and healthy" and Kanye even cancelled an album party appearance to be with Kim. Sound.
Of course, given that this family plays out everything via their TV shows we already knew Kim was having a girl:
via Buzzfeed
Still, we don't know the name but E! also reported on how the baby has dark hair and looks just like Kim.
And apparently there's a strong chance they'll go with a K name for the newborn too.
There's not much else news around the child just yet, presumably it's been saved for a yet another E! TV spin-off.
Kim's sister Khloé (aka the tall one who did a stint on the X-Factor USA) is the only one of the sisters to say anything about the baby so far: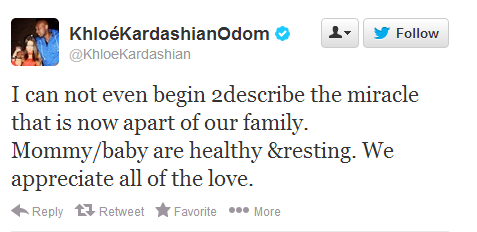 And this tweet just adds to our "Look out for our forthcoming special on the baby on E! in 2 weeks time" suspicions:
We're kind of raging Kanye hasn't popped up on Twitter and given us a gem like this to celebrate the newborn:
JennaDaily / Tumblr
It wouldn't be a Kardashian post without a mention of mother / manager / mogul Kris Jenner who spoke briefly about the Kim and Kanye baby yesterday while plugging her own talk show (of course)
HLN / YouTube
Given that this is the Kardashians we're sure that by the end of the week we'll have a baby name, a line of clothing based on her early outfit choices, a track dedicated to her by Kanye and at least 5 endorsement deals.