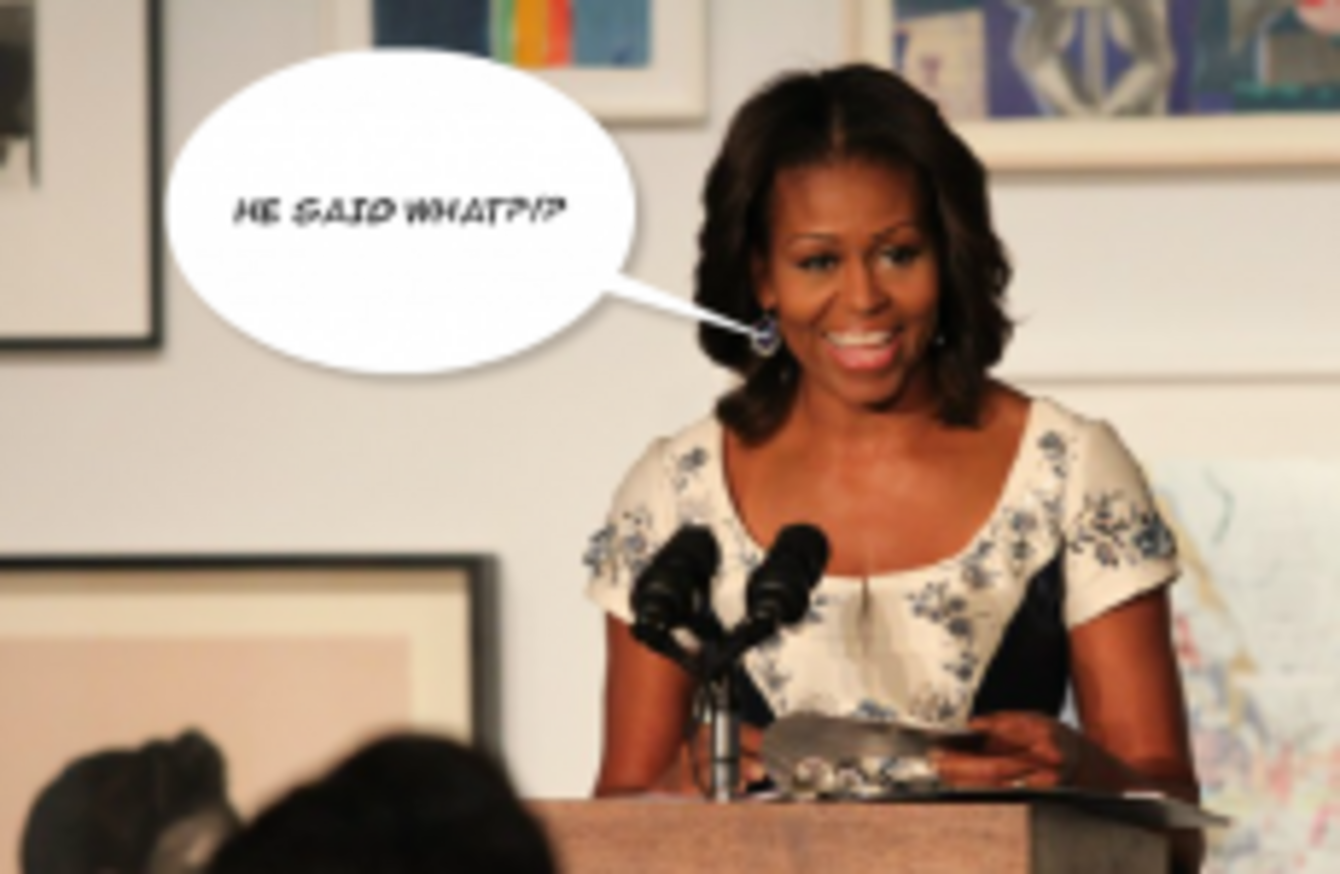 Image: Tina Fineberg/AP/Press Association Images
Image: Tina Fineberg/AP/Press Association Images
EVERY WEEKDAY MORNING, DailyEdge.ie rounds up the best of the day's celebrity dirt – from the top to the very bottom.
We all know that Kanye talks a big game, and his latest outlandish statement is that Kim Kardashian is more influential than Michelle Obama.
Speaking on Ryan Seacrest's radio show, he said:
There's no way Kim Kardashian shouldn't be on the cover of Vogue. She's like the most intriguing woman right now. She's got Barbara Walters calling her like everyday, and collectively, we're the most influential with clothing. No one is looking at what [BarackObama] is wearing. Michelle Obama cannot Instagram a [bikini] pic like what my girl Instagrammed the other day.
Well, she could, she just probably wouldn't.
When asked, we understand Michelle Obama reacted with this facial expression:
Kanye also spoke about the circumstances surrounding his engagement and what kind of a father he thinks he'll be in the interview.
Chris Brown has gone into rehab to apparently 'gain focus and insight into his past behaviour'.  About time.
You may have heard that he was arrested for felony assault over the weekend, but the charge was then reduced to a misdemeanour.  He apparently punched a man in the face and called him a homophobic slur.
He was released on bail but as he remains on probation for assaulting Rihanna he's not exactly in the good books.
Poor sad, misunderstood Chris Brown.  (Can you feel the sarcasm dripping from that sentence?  We hope you can.)
Harry Styles was asked about his relationship with Louis Tomlinson in an interview for Australian television this week.  As you may know, there is a thriving club of Directioners who believe that the two members of One Direction are in a romantic relationship.
Harry was having none of it.  Check it out from 2:24.
Source: endlesswinters
Liam is a great lad, isn't he, jumping in to help his friend?  Nice of him to bear the brunt by laying claim to a relationship with Niall.
(Buzzfeed)
And the rest of the day's dirt…