LADY GAGA HAS distanced herself from her wacky antics as of late, dressing like an Old Hollywood starlet and doing a Golden Globe-nominated turn on American Horror Story: Hotel.
But don't worry. The old Lady Gaga is lurking underneath after all.
The singer is guest editor of this season's V Magazine, creating a grand total of 16 different magazine covers for the issue.
One of them is an extremely intimate post-coital selfie of Gaga and her fiancé Taylor Kinney, covered in paint and sitting on a piece of canvas.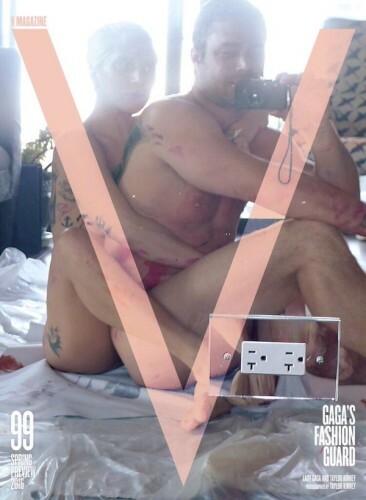 Twitte / @ladygaga Twitte / @ladygaga / @ladygaga
Gaga revealed that she and Kinney covered themselves in paint and had sex on the canvas for the magazine, dubbing it 'adult finger painting'.
Twitter / @ladygaga Twitter / @ladygaga / @ladygaga
She told Yahoo Style that she hopes people look at the sex painting as a symbol of love during dark times:
During tumultuous times, we hope everyone in the world will see this and be reminded to love each other wildly, generously, totally, colourfully, without fear and with compassionate hearts. We made a galaxy of endless colours with only brief, black holes of emptiness that are then filled by each other.
Good to have you back, Gaga.