THE LOS ANGELES Police department have been forced to warn iPhone users that the latest software update does not allow users to microwave their phones for a longer battery life.
Fake ads popping up online have been claiming that a new iOS8 feature, Wave, can recharge an iPhone battery using a household microwave.
The fake ad is so realistic and has gone so viral on Twitter, the LAPD warned users of the hoax to prevent certain damage to their devices.
The ad claims that microwaving a phone for 60 seconds at 700w or 70 seconds at 800w will use your handset's radio-baseband to synchronise with microwave frequencies to recharge your battery.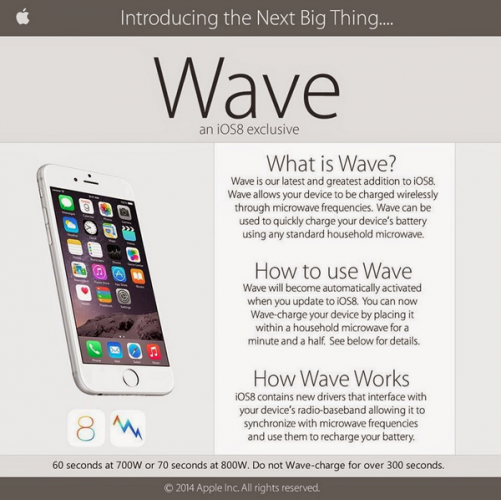 Brian Humphrey, spokesman for the Los Angeles Fire Department told the LA Times that following the instructions could cause serious damage, fires, and even an explosion.
A bit closer to home, London Fire Department are warning the same.
The hoax, thought to have originated on message board 4chan, has apparently been fooling some Twitter users, but many of the accompanying photos are old images, like this one taken from a YouTube video from 2006.
While the LAPD say they have had no reports of a fire caused by iPhone microwaving, it hasn't stopped Twitter from chiming in.