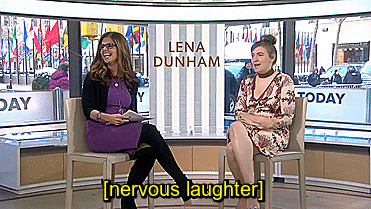 YouTube YouTube
LENA DUNHAM IS currently in the middle of promoting the final season of Girls, which premieres this weekend.
This morning, she appeared on NBC's Today Show to chat all things Hannah Horvath with host Maria Shriver. After five or so minutes of pleasant back-and-forth, Dunham mentioned the word "penis" in passing and all hell broke loose.
Maria Shriver: Lena Dunham, thank you so much for stopping by. I had a chance to look at three new shows from this season and it looks terrific.
Lena Dunham: You saw a penis, right?
Maria Shriver: [visibly flustered] I saw more than that. [nervous laughter] You caught me there for a second! I'm not sure you're allowed to say that on television. [quickly escalates into full blown hysteria] Help! She threw me off!
TODAY / YouTube
It was as awkward as it sounds not least because the word "penis" is actually quite harmless and Shriver's reaction made no sense at all.
Later in the interview, Shriver explained that he reaction could be attributed to "the difference between generations".
I wasn't brought up talking like that.
Imagine poor Maria's reaction if she heard some of the other words people have for penis.
For her part, Shriver later took to Twitter to say that she loved interviewing Lena Dunham because she made her "think AND laugh — a great combo!"
Speaking to E!, Lena Dunham said she was surprised that Shriver was left so shook at the mere mention of the word.
To be able to throw her that much with the word 'penis' was definitely a shock to me and those around me.
I just liked how everyone lost their mind and didn't even know where to put the camera. To see that moment where everyone completely loses their ability to do their job based on the word 'penis' — if I freaked out every time I heard the word 'penis,' I wouldn't be walking.
E! Live from the Red Carpet / YouTube
Additionally, Dunham explained that she thinks avoiding the words for genitals actually does more harm than good.
I actually think on a more serious level not just saying the anatomical words perpetuates a sense of shame. And plus I was really being myself, I would have just said "c*ck" or "p***y" so she was really lucky.
So now. Someone get Maria Shriver a hot cup of tea with extra sugar.
DailyEdge is on Snapchat! Tap the button below to add!