A LITTLE GIRL who accidentally broke a Christmas bauble during a visit to a John Lewis store has sent them an apologetic letter, even going as far as to cover the costs of the broken ornament with two pound coins.
Dominic Joyce, the store manager of the Cambridge John Lewis tweeted the letter in a quest to find the girl that can only be identified as a five-year-old named 'Faith'.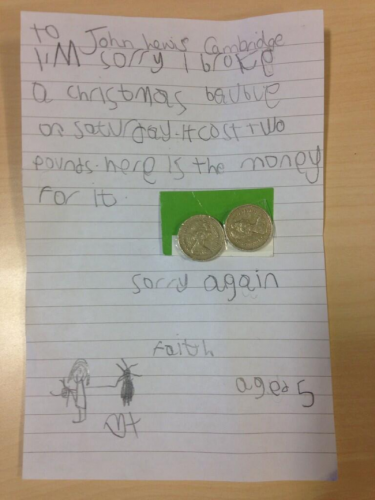 DJ7 DJ7
The note read:
To John Lewis Cambridge. I'm sorry I broke a Christmas bauble on Saturday. It cost two pounds. Here is the money for it. Sorry again.
Joyce sent out a plea for little Faith to come forward so he could reward her honest goodwill. All we had to go on is this expertly sketched self-portrait, but breaking news now suggests that Faith has come forward.
Speaking to Cambridge News, Dominic has confirmed that Faith has been found and one of his colleagues has been in touch with her mum.
Her mother has said she's a very shy little girl, and because there has been so much publicity about the story, she is feeling not very keen to come forward. However, I am hoping to speak myself to Faith's mum and make arrangements for her to receive a present from us.