LITTLE MIX'S JADE Thirlwall probably doesn't usually see her Instagram comments receive worldwide attention – but today that's exactly what's happened.
And she delivered quite the burn in the process.
Last night, she posted a shot of famous drag queen RuPaul
She simply captioned it: "goals."
But one commenter didn't see it that way at all
Twitter Twitter
Ususally such comments would be ignored for what they are, but Jade rowed back in with an excellent reply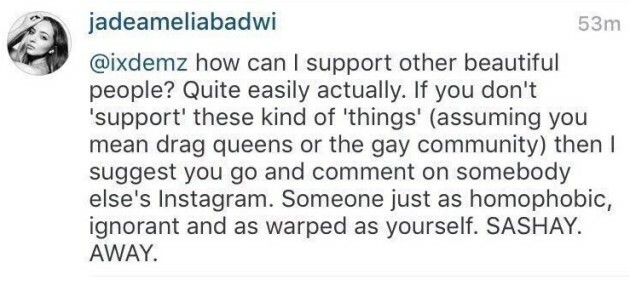 Twitter Twitter
She said:
how can I support other beautiful people? Quite easily actually. If you don't 'support' these kind of 'things' (assuming you mean drag queens or the gay community) then I suggest you go and comment on somebody else's Instagram. Someone just as homophobic, ignorant and as warped as yourself. SASHAY. AWAY.
Boom.
And today, the internet applause has been overwhelming
SASHAY. AWAY.
DailyEdge is on Snapchat! Tap the button below to add!