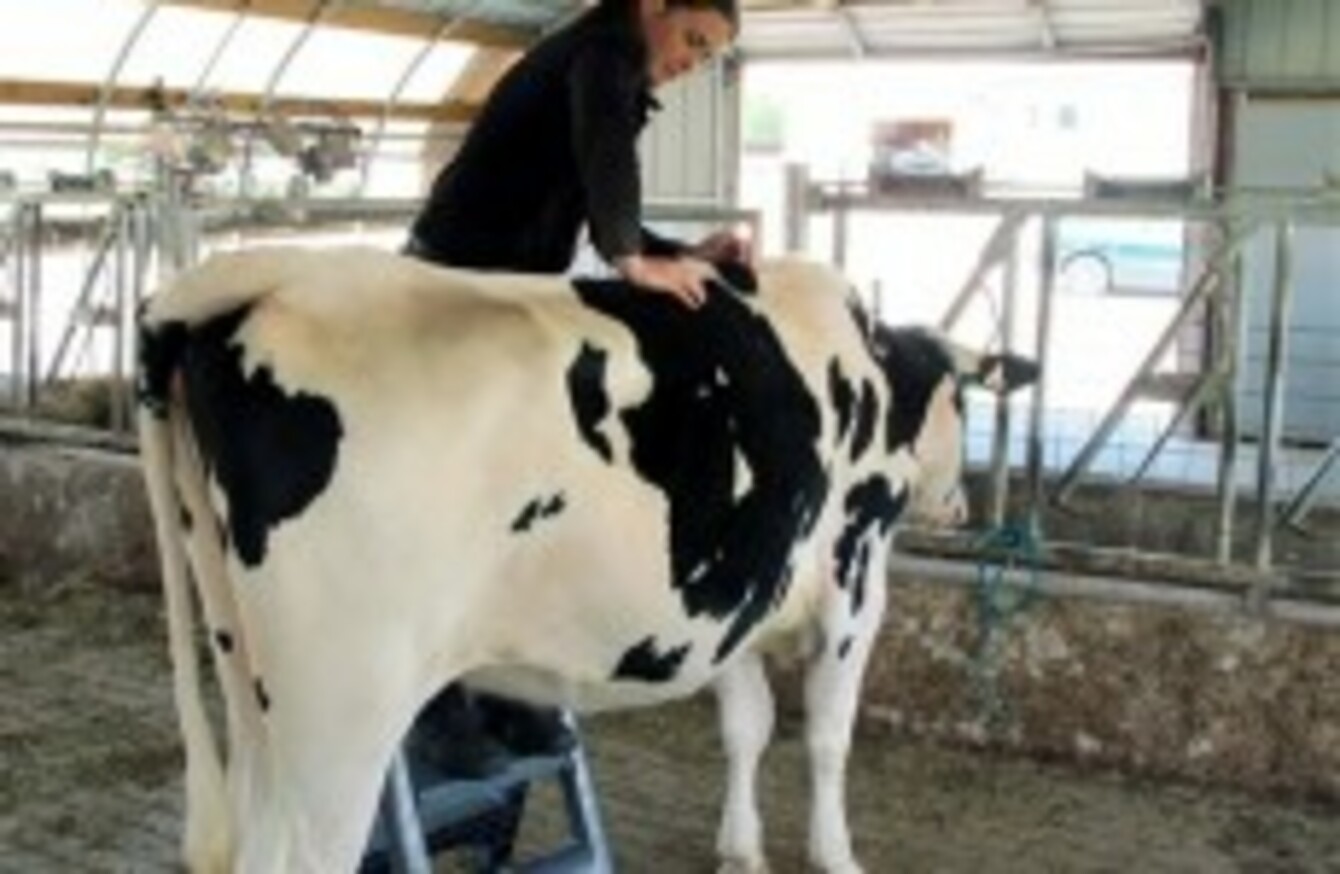 'Lucky' the cow getting a full spinal massage
Image: AP Photo/Dinesh Ramde
'Lucky' the cow getting a full spinal massage
Image: AP Photo/Dinesh Ramde
THE PHRASE 'LUCKY cow' has taken on a new meaning in Chilton Wisconsin.  Seven-year-old dairy cow Lucky has been treated to a specially designed massage.
Lucky had been walking with a limp for several weeks when veterinarian Sara Gilbertson was called.
Instead of prescribing painkillers, Gilbertson tried an unusual new therapy — a chiropractic adjustment that included a full-length spinal massage.
Gilbertson rubbed the cow's spine by gently squeezing it from neck to tail, pausing to apply firm pressure to one hip and readjust several vertebrae. The cow stood in calm silence, moving only enough to reach another mouthful of hay.
The notion that happier cows provide nicer milk has already been explored by farmers and advertisers. There's no scientific proof to back up the idea but Lucky's owner Larry Meyer has been dishing out some wisdom on the issue.
It's kind of like how an athlete with a sprained ankle isn't as productive.  If you can get a cow healthy and back to normal, it makes a difference in their productivity.
Another dairy farmer has made headlines in the US after he spent almost €65,000 on waterbeds for his cows.  Richard Conrad from Grafton, Ohio said it took the 220 dairy cows a few months to adjust.
"They were real skeptical at first because it was real jiggly," said Conrad, "but once they adapted they didn't look back. They just jump on and stay there."
It's not just the yanks that prone to some cow pampering.   In Germany, the Dortmund Concert Hall plays recordings of different classical pieces for specific cows. The hall then serves milk from the respective cows during live concerts featuring those same pieces.   They should try playing Sweden's Eurovision winner Euphoria which sounds like it would hit the spot.
The word from the fields is that the Laughing Cow is green with envy as are the happy cows whose milk goes into Kerrymaid's produce.

(Ruthpandora/Youtube)
- Dinesh Ramde