MAC LIPSTICKS ARE very nice, but they're also €20, which isn't exactly pocket change.
These great alternatives are all available in Penneys for under a fiver. Where would you be going?
1. PS Matte Long Last Lipstick in Manhattan, €2
Before the Lip Kit was a twinkle in Kylie Jenner's eye, she revealed that MAC's Velvet Teddy was her number one nude lip colour.
Penneys has recreated the sultry brown-toned nude for a mere €2. And that little clear container at the bottom of the tube? It's matching lip gloss. THANKS PENNEYS.
2. Wet N' Wild Bare It All, €2.99
If the Penneys version is sold out (as it often is) you can turn to the Wet N' Wild stall, where for 99 cent more you can get Bare It All, another great Velvet Teddy dupe. Spoiled for choice!
3. Wet N' Wild Purty Persimmon, €2.99
MAC's Lady Danger is a shocking red-orange that's great for summer (or whenever you want to feel badass). Wet N' Wild's Purty Persimmon is also a shocking red-orange that's perfect for when you want to feel badass. Take your pick!
4. PS Lip Liner Pencil, €1.50
This particular Penneys lip liner is a dupe for MAC's Whirl and Soar lip liners, depending on who you ask.
It has become a cult product, and it really is good as everyone says it is – creamy, easy to apply, and long lasting.
5. Catrice Ultimate Stay in Wood You Love Me, €4.49
MAC Kinda Sexy is the perfect peachy nude, and guess what this Catrice lipstick is? That's right, a perfect peachy nude. Snap it up.
6. Wet N' Wild Sugar Plum Fairy, €2.99
Wet N' Wild are serious about keeping you away from the MAC store, aren't they? Sugar Plum Fairy is a dead ringer for Rebel, a lovely berry shade.
7. Essence Longlasting Lipstick in Cool Nude, €2.89
MAC's neutral shades are particularly popular for copycats – Essence's Cool Nude shade is very similar to Faux.
8. Wet N' Wild Stoplight Red, €2.99
Ruby Woo is the quintessential MAC shade – and unsurprisingly, it's being reproduced left right and centre. Try Wet N' Wild Stoplight Red for a much cheaper take on the colour.
9. Catrice Ultimate Colour in Hey Nude, €4.49
Not into the matte lipstick trend? No problem! This Catrice lipstick is comparable to MAC's Creme Cup, a pale pink with a creamy, sheeny finish.
10. Wet N' Wild Cherry Bomb, €2.99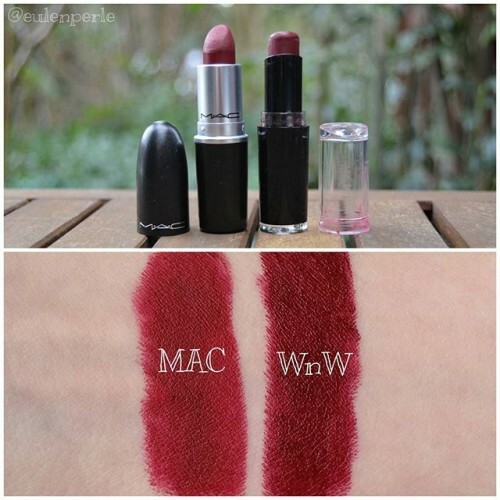 Instagram / eulenperle Instagram / eulenperle / eulenperle
Cherry Bomb is just as dramatic a red as MAC Diva, for a fraction of the price. Result.
DailyEdge is on Snapchat! Tap the button below to add!