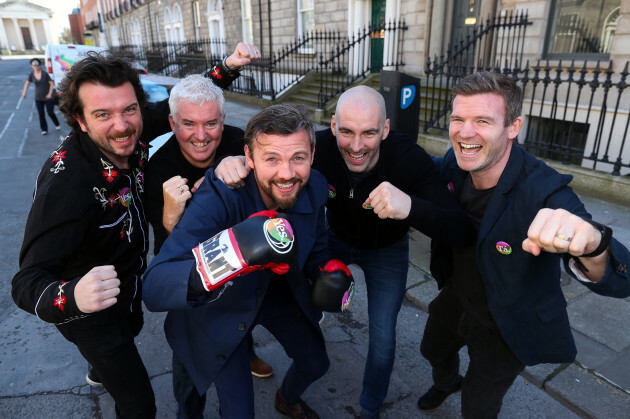 THE REFERENDUM On the 8th Amendment is coming up and the campaign to repeal it is gaining a lot of momentum.
Together For Yes have crowdfunded nearly €600,000 to fund posters and leaflets and canvassers are out in every part of the country knocking on doors and talking to people.
More and more people are coming out in support of Together for Yes including former athlete Derval O' Rourke, Blindboy Boatclub of the Rubberbandits and the wonderful Amy Huberman.
Firstly I believe each to their own. And in turn the very essence of that being choice. As I see it it isn't pro anything other than choice. For basic healthcare, compassion, understanding, safety & Trusting Women. Either way make sure you're registered to vote. #togetherforyes

— Amy Huberman (@amyhuberman) April 20, 2018
The thing is though we need to get more men engaged in this issue. Some men believe it's a women's issue and therefore they shouldn't have an opinion and won't vote as a result. In fact men make up half the population of this country and given that they have a vote, it's very much an issue that they need to be involved in.
It would be kinda easy for me to stay quiet on difficult topics. Sit all cosy on the fence. Perhaps in some ways it's more 'brand savvy' but I won't be quiet on topics I care about and feel need support. #repealthe8th

— Derval O'Rourke (@DervalORourke) April 15, 2018
Last week Blindboy appeared on the Don't Stop Repealin' podcast. The episode was focused on how to get lads involved in the referendum and Blindboy made an interesting point.
One of the fears I have about this referendum is that yes men are getting on board but from what I can see, it's the type of lads that are they're already kind of woke, they're liberal leaning. I'm not seeing a huge amount of response from lads who aren't open to these things, the average lad on the street who just wants to have a pint and watch a game of rugby."
He's right. From the couple of times I've been canvassing, I've had conversations with men who are not aware of the issue or who don't feel they should vote or just have not engaged with the referendum at all. Life is hectic and not everyone is politically engaged, that's understandable. What we have to ask ourselves is how do we reach those men?
To any lads unsure of their place in conversations re #8thRef, this episode of @dontstoprepeal was made ESPECIALLY FOR YOU! Myself, Blindboy @Rubberbandits and @MaserArt join @UnaMullally & @AndreaHoran for a chat #together4yes https://t.co/EJWmFH6eLk

— Richie Sadlier (@RichieSadlier) April 19, 2018
There is no simple solution to this but one thing that definitely would help. We need more male sports stars to come out in support of Together For Yes. We've already seen it in Donegal with All Ireland winner Eamon McGee launching Donegal's Together For Yes's campaign.
Today has been a great start for that with former Ireland international Gordon D'arcy as well as sports commentator Con Murphy coming out in support of the movement.
Vote yes for a more compassionate Ireland for women. Men, this is an issue we can all get behind! #together4yes pic.twitter.com/wwXw2ZJZpJ

— Kevin McGahern (@kevinmcgahern) April 24, 2018
Former footballer turned psychotherapist and RTÉ pundit Richie Sadlier also wrote a phenomenal piece in the Sun asking men to get out and vote. He put it in incredibly simple terms too.
When I go to the doctor, I close the door behind me before saying a word about why I'm there. Nobody in the waiting room gets to listen in, nevermind join in. Nobody passing by the surgery gets to wander in and give their tuppence on whatever choices I must make. Nobody from the local school, church or pub get to be a part of the conversation. When I go to the doctor, I close the door behind me because it's private, it's nobody's business but mine."
That's what we need more of because that is how you engage lads who aren't engaged already. Sports stars in Ireland, as in every other country have a lot of power, particularly GAA players. Sports people can reach the men that Blindboy or Leo Varadkar or Twitter can't. People listen to sportspeople, they're the people who could swing this.
The 8th Amendment is getting in the way of a more compassionate Ireland, where women have the choice to get the care they need, and make the decisions they need to make. #men4yes @Together4yes pic.twitter.com/amLs3yRIUw

— Gordon D'Arcy (@Gordonwdarcy) April 24, 2018
If you're someone who follows Donegal GAA and you see that Eamon McGee is voting for Repeal then it could spark a conversation, an interest and just might be enough to get someone to vote. Given this will probably be a very tight referendum, every single vote counts so that one nudge makes a huge difference.
Men, please use your vote, and repeal. This issue does affect you. Vote for a more humane and safe society. If you're on the fence, know this. The 8th doesn't and won't prevent abortions, it only prevents safe abortions. https://t.co/uapCZqUt5I

— Rubber Bandits (@Rubberbandits) April 16, 2018
I'm not for one second that people have a cult-like devotion to sports stars but given their influence, they can do a lot of good when they step up.
The drawback to putting your head above the parapet is the abuse that might get hurled at you or that it might put off sponsors or advertisers. That is also understandable, particularly if you're a GAA player who isn't getting paid. That's why it's so encouraging to see Eamon McGee standing up for what he believes in.
Having said that, some things are more important than money. If you truly believe in something and you have a platform, you have more of a duty to stand up and say 'Actually I will be voting to repeal the 8th Amendment and here's why'. The power that statement will have is remarkable.
I've pledged to talk to at least one person a day on why we need to #voteyes because it's the compassionate and right thing to do #together4yes #8thref #ItsTime https://t.co/EQn0nbkSQc

— Richie Sadlier (@RichieSadlier) April 11, 2018
The 8th Amendment affects us all. That's what we need the men who want a pint and to watch rugby to understand. We need their empathy and more importantly we need their votes.
This referendum will be won by conversations and getting men from every background engaged and sports stars are key to that. Richie Sadlier, Gordon D'arcy and Eamon McGee can't do it by themselves. We need our sportspeople to stand up and support Together for Yes and we need them now.
DailyEdge is on Instagram!