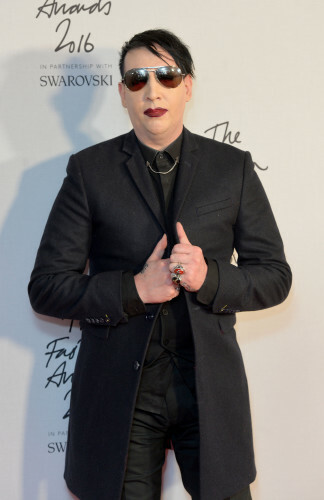 PA Wire / PA Images PA Wire / PA Images / PA Images
MARILYN MANSON WAS injured on stage at New York's Hammerstein Ballroom last night after a stage prop fell on top of him.
45 minutes into his set, 48-year-old Manson attempted to climb onto what appears to be scaffolding with two giant fake pistols on either side of it. The prop toppled over, causing him to fall backwards, landing underneath it.
Manson's band continued to play until they noticed that the singer was not getting up. A curtain was pulled across the stage and the lights were turned down for several minutes before he was taken from the stage on a stretcher.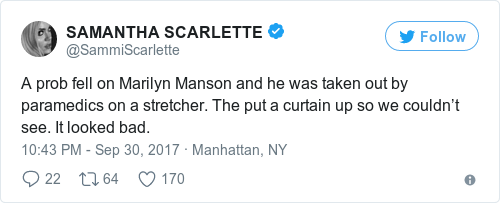 Samantha / Twitter Samantha / Twitter / Twitter
An eye witness told BBC that "the singer laid on stage for up to 15 minutes covered by a sheet before he was taken to hospital."
Several minutes later it was announced that the show was cancelled "due to injury."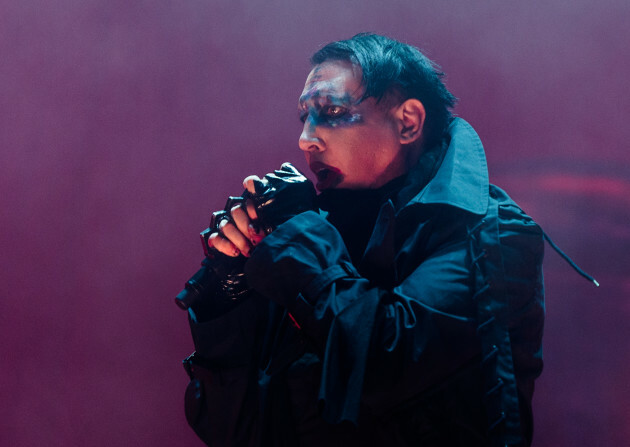 DPA / PA Images DPA / PA Images / PA Images
Videos of the incident have emerged on Twitter.
If the video won't play, click here. 
The incident happened just three days into his current tour, which was due to continue until the end of October. It is not yet known whether the tour will continue as planned, as Manson remains in hospital for treatment.
There has been no official comment on his condition yet.
DailyEdge is on Instagram!