A BOEING 747 jumbo jet accidentally landed at a small Kansas airport instead of the intended Air Force base about nine miles away.
The Atlas Air Dreamlifter jumbo jet was due to deliver parts for a new 787 Dreamliner to McConnell Air Force base yesterday, but ended up on the runway of nearby Jabara Airport in Wichita, Kansas.
Well, now it's stuck.
See?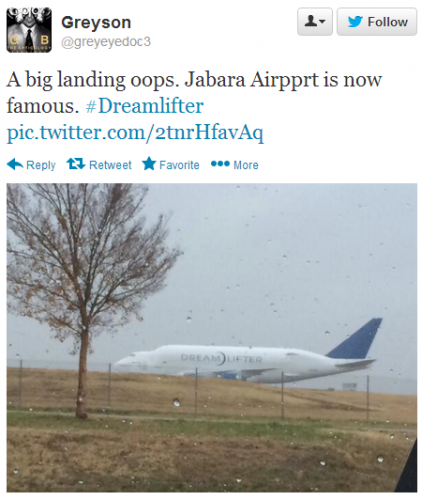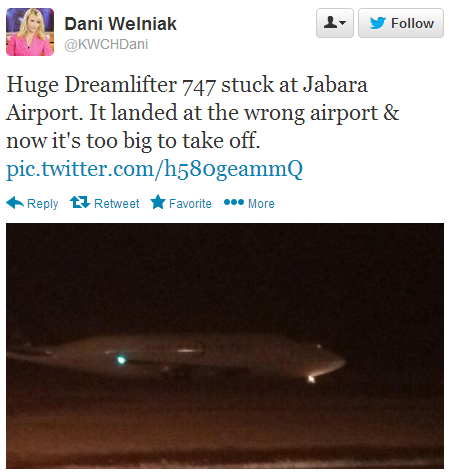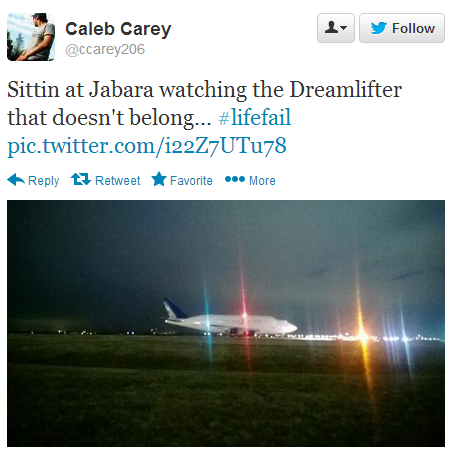 The Dreamlifter took off from John F. Kennedy International Airport in New York and requires 9,199 feet of runway to land. Jabara falls short at just 6,101 feet.
According to flight recordings, the pilots were initially confused as to where they had landed. McConnell gave the plane clearance to land at the base, but the two-person crew figured they were elsewhere. When asked if they were at a third Kansas airport– Beech Factory– the pilot is heard saying "we think so". McConnell broke the bad news:
It appears that you're at Jabara.
Uh, say again?
Giant 4241 heavy, we saw the plane on the radar, and it appears that you are at Jabara Aiport.
It wasn't even the first time the pair had flown to the base.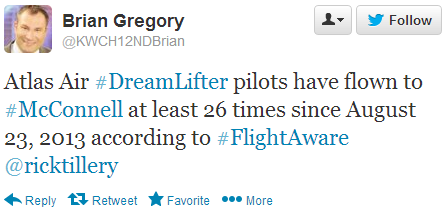 CNN reports that the only reason the plane could land on such a small runway in the first place was because the fuel used from its journey from New York lightened the plane.
A tug was sent to turn the plane around, but clearly nobody involved here can catch a break and it broke down on the way to the airport.
The tug was eventually rescued, and turned up to prepare the jet for flight.
According to KWCH's Pilar Pedraza, the Wichita Airport Authority are now waiting for a replacement crew to fly the plane eight minutes across to its rightful destination, and hope to see it take off before noon (6pm GMT) today.
Inspections will be carried out to ensure there was no damage done to little Jabara.