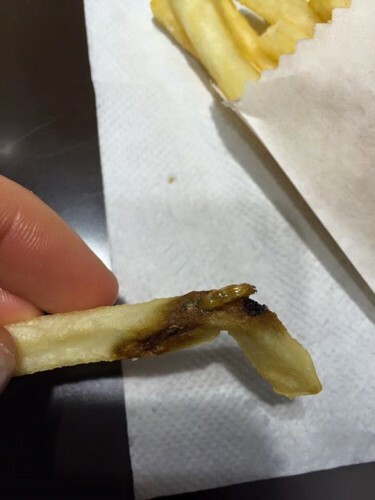 Facebook Facebook
MCDONALD'S IRELAND HAS said it is investigating a photo which appears to show a "worm" crawling out of one of its chips.
Earlier this week, an Irish Facebook user shared a photo, above, which appeared to show a 'worm or maggot' crawling out of a chip. The user wrote that she purchased the chips from the Grafton Street branch of McDonald's.
A spokesperson for McDonald's acknowledged to DailyEdge.ie that the restaurant had been contacted regarding "an apparent potato defect" and said it was investigating the matter further.
McDonald's Ireland has been contacted by a customer regarding an apparent potato defect in a serving of fries in our Grafton Street Restaurant. The matter is now being looked into.
McDonald's Ireland sources real, whole potato fries from our longstanding supplier McCain's in the UK. McDonald's is committed to delivering the highest food safety standards in our restaurants and as such, we welcome feedback from our valued customers.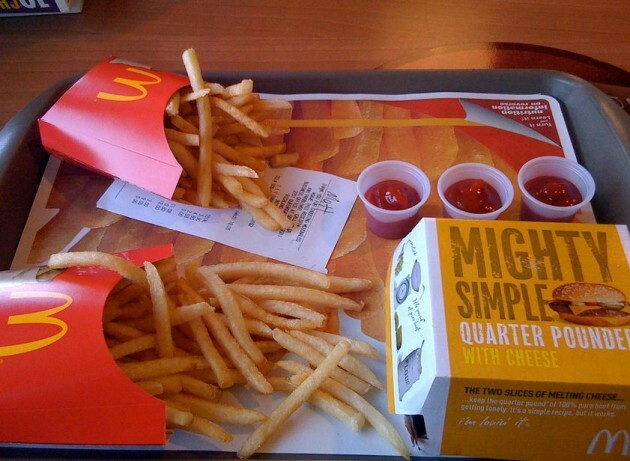 Flickr Stock photo of McDonald's fries and quarter pounder. Flickr
In her Facebook status, the woman who took the photo writes that she ordered a Happy Meal from McDonald's on Grafton Street when she noticed that one of her chips had "a burnt spot in the middle".
Upon closer inspection, however, she claimed that she realised it was "some sort of worm of maggot". The user told DailyEdge.ie she was
very shocked and disgusted to find what I found, and felt let down by McDonalds as a brand.
The photo has since been shared over 2,900 times on Facebook with many expressing disgust and dismay.
Photo used by permission of the original uploader