THE BOYCE FAMILY from Texas have become properly internet famous this week thanks to their unusual sleeping arrangements.
Mam Elizabeth posted this image to Facebook earlier this month and it's gone super viral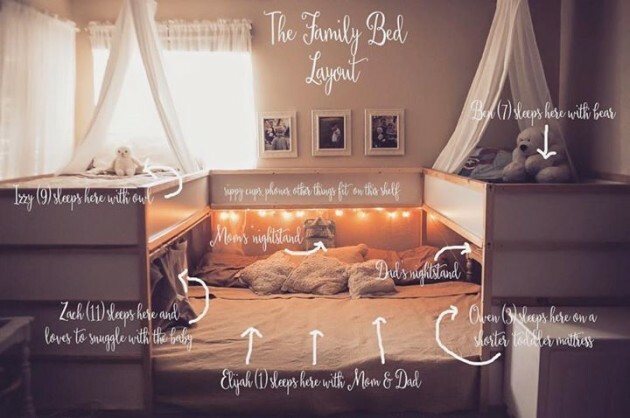 Elizabeth Boyce / Earth Mama Facebook Elizabeth Boyce / Earth Mama Facebook / Earth Mama Facebook
Yes, it's a megabed that sleeps the whole family of seven.
Elizabeth's photography blog Wandering the World Below tells the story of the family's massive seven person bed that they all sleep in – and everyone is fascinated.
But isn't that a little awkward when it comes to marital relations with her husband Tom? Well, she had this response on the blog:
Well the easy answer is that sex doesn't have to happen in a bed.
In our house, by moving everyone into one room, we suddenly had several other rooms that were completely empty at night and we no longer had small children wandering, crying into our bed in the dark.
An interesting solution.
Elizabeth Boyce Elizabeth Boyce
The family's sleeping technique has garnered plenty of media attention – and divided opinion as well.
But why do they do it? As Mashable found out, it's to do with travel:
As active travelers, the Boyces often share one big hotel room or camper bed with their family. Prior to the bed, they'd have to "retrain" the kids to sleep independently, but now, the pressure is off.
The mega bed is made out of component parts of IKEA beds – because IKEA doesn't make a bed big enough to sleep seven.
Snoring could be a major issue in this scenario – it only takes one person to ruin a whole family's night. We wish them well.