OVER THE WEEKEND, Twitter engaged in a conversation surrounding mental illness and the misconceptions associated with various conditions; from anorexia to depression.
Initiated by Metro reporter Hattie Gladwell, the dialogue quickly gained momentum, with Irish writers, including Marian Keyes and Louise O'Neill, contributing their own experiences to the thread.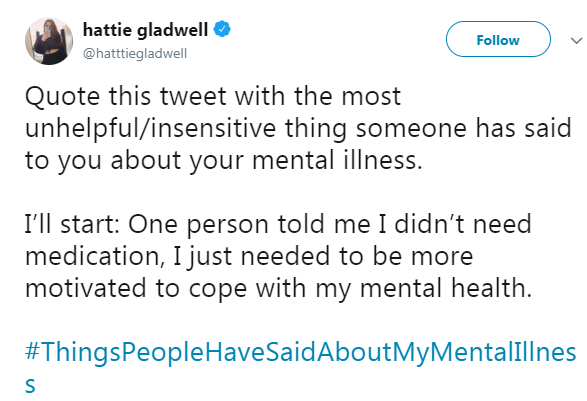 hatttiegladwell / Twitter hatttiegladwell / Twitter / Twitter
And while most of us would like to assume – given the number of high-profile individuals who have shared their own stories in recent years – that the stigma associated with illnesses of the mind was dissipating somewhat, this conversation shone a light on the progress which has yet to be made.

walkamileuk / Twitter walkamileuk / Twitter / Twitter
However, while the tweets undoubtedly made for disheartening reading, contributors admitted they felt reassured that they weren't the only sufferers to have endured the same level of ignorance.
Take a look at this…
MarianKeyes / Twitter MarianKeyes / Twitter / Twitter
Marian's response attracted an incredulous response from some followers, while others admitted they had been the recipient of similar remarks.
Go for a walk and get air, you will feel much better. I was dying inside and severe anxiety and I was terrified of going out. If only a walk would cure mental illness, I'd never feel ill again.
I'm not severely depressed, apparently I'm just lazy and looking for time off work! I often wish I could make these 'people' live in my head for a few weeks and see how they cope!
My partner said 'But what is your GP going to put on your sickness cert? He can't put 'stress', it'll be on your company's records forever'……..('cos of course only non-copers get stress). I was off for 2 weeks and crawled back far too early.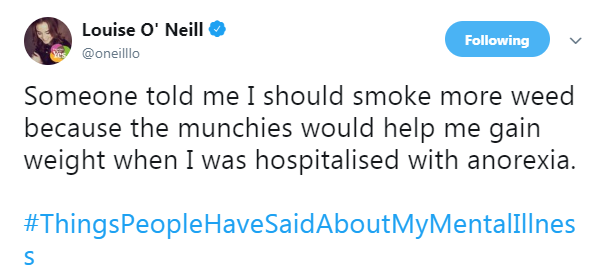 oneilllo / Twitter oneilllo / Twitter / Twitter
A number of Louise's followers revealed they had also been offered absurd advice while in the throes of an eating disorder.
I was told this too! And to drink before a meal so I'd be more relaxed.
I once told a therapist how much I was really trying and struggling to lose weight and how much it was depressing me. She told me to chew gum because my body would be tricked into thinking I'd eaten.
I was told by an ex boyfriend to take cocaine "because it would do wonders for your confidence".
The conversation has been the subject of thousands of replies and retweets, with the thread attracting international attention since Sunday.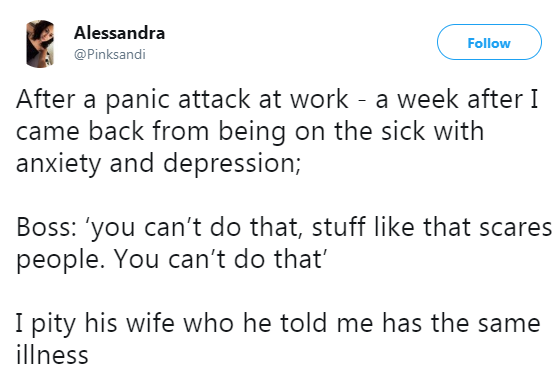 Pinksandi / Twitter Pinksandi / Twitter / Twitter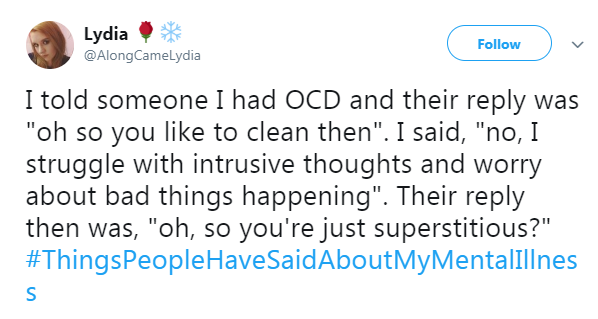 AlongCameLydia / Twitter AlongCameLydia / Twitter / Twitter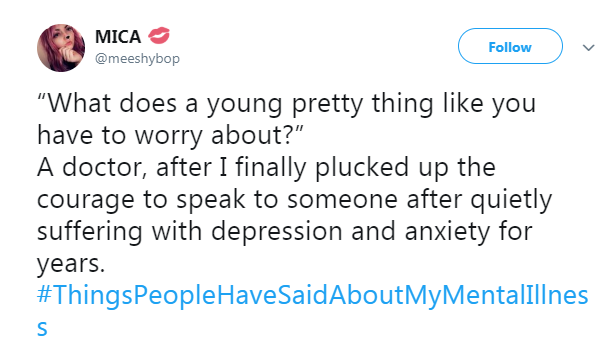 meeshybop / Twitter meeshybop / Twitter / Twitter
If you have been affected by this thread, you can contact The Samaritans here.
DailyEdge is on Instagram!