THE 2014 NOMINEES for the prestigious Mercury Music Prize have been announced, and as usual there's bound to be a certain amount of head scratching over the shortlisted artists.
Gifsec Gifsec
Of the 12 nominees only a couple are well known names – Damon Albarn, Bombay Bicycle Club are probably the most 'mainstream' names on the list. Our Song of the Summer nominee FKA Twigs is there too, along with six other debut albums and a few jazz offerings.
Maybe you're already an Anna Calvi fan, perhaps you can't get enough of Jungle or Kate Tempest, but no matter what your musical prowess in this area, we've got you covered.
Here's how to fluke your way through any Mercury Prize conversation…
First of all, the nominees: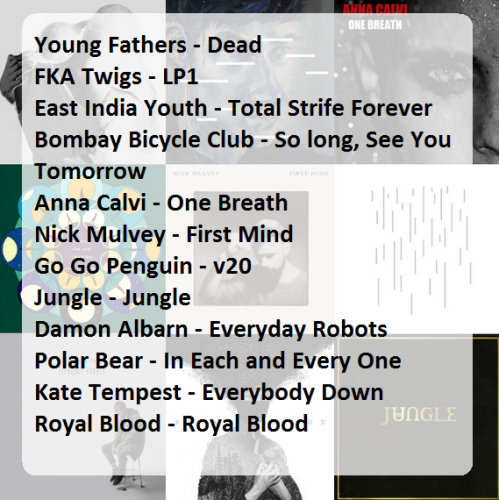 What should you be feeling overall?
Well The Guardian has plumped for the Mercury board "ignoring" the big stars: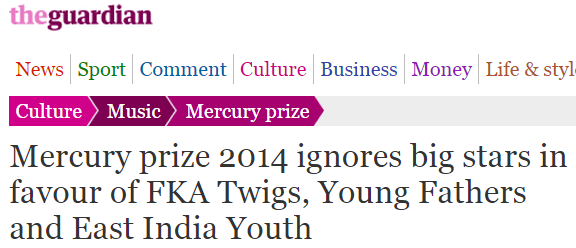 while the NME points out that the likes of Sam Smith and Chvrches are notably missing from the line up. Elbow is also missing, according to The Guardian, which also mentions a "disregard for genre". The NME reports that Damon Albarn and Royal Blood are joint favourites to take the prize.
If you're looking for some key phrases to throw around in the wake of the announcement you could go with things like:
Oh it's Royal Blood's to lose.
FKA Twigs and Kate Tempest probably the best shouts for the Mercury.
No Chvrches? It's a sham!
Musically the list is all over the place? No?
And what of the bands?
Here's a quick crash course in who the nominated artists actually are:
Young Fathers – Dead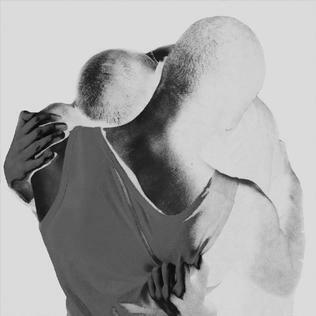 Scottish alternative hip hop trio. Dead is their debut album. They've been compared to "Massive Attack 25 years ago". Standout track: Low
FKA Twigs – LP 1
London solo artist Tahliah Debrett Barnett. Some filthy lyrics on her unique debut album especially in stand out track Two Weeks. Cancelled her Electric Picnic performance last weekend, the cow.
FKA twigs / YouTube
East India Youth – Total Strife Forever 
Another debut, this time from electronic musician William Doyle, who's from Bournemouth. Drowned in Sound called the album "absurdly confident". Doyle only sings on four tracks.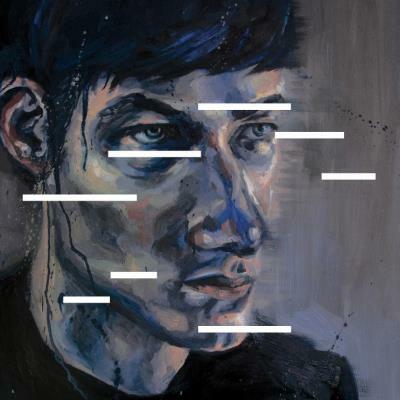 Bombay Bicycle Club – So Long, See You Tomorrow 
Fourth album from this London band. Played the main stage at Electric Picnic. The NME calls them the "British answer to Animal Collective".
BombayBicycleVEVO / YouTube
Anna Calvi – One Breath 
Legend of a lady with a guitar. One Breath is her second album and her live shows have a strong reputation. Pitchfork calls Calvi's music "theatrical in the sweeping, near-operatic sense". Standout track: Love of my Life.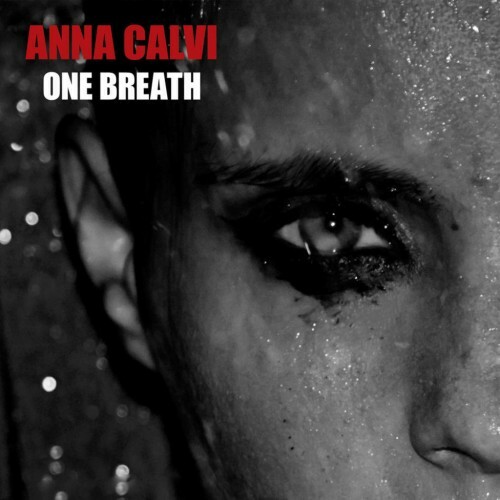 Nick Mulvey – First Mind
Heralded as 'lovely' by the Telegraph, this is Mulvey's debut solo album (he was previously in the Mercury nominated band Portico Quartet". Standout track: Cucurucu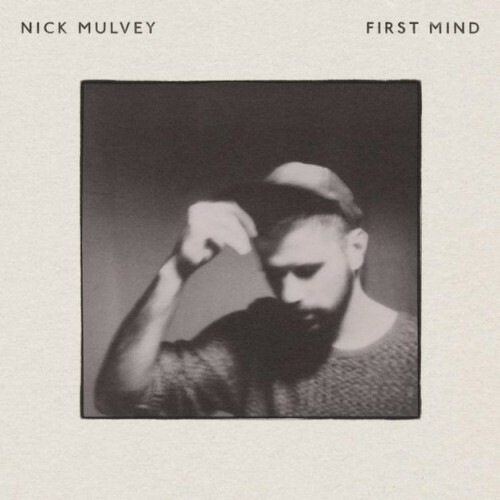 Go Go Penguin – v20
There's almost always at least a nod to jazz on the Mercury shortlist, but this time it gets a good look in. Manchester's Go Go Penguin is one of the representatives this time round. v20 is their second album. "Classical melancholy, dance-floor thrills and jazz's free, intuitive thinking are all on generous display here" – so says Jazz Magazine.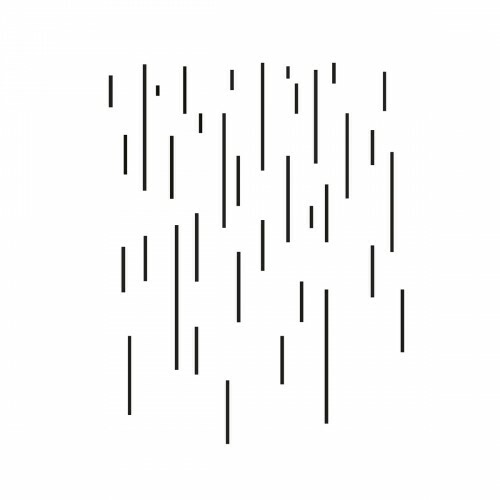 Jungle – Jungle 
One of the darlings of Electric Picnic 2014, Jungle is a London modern soul collective. Their eponymous album is their debut and they are known as masters of mystery. According to the BBC they "built up a fanbase without ever revealing their names or their faces".
JungleVEVO / YouTube
Damon Albarn – Everyday Robots 
You should be okay on this one. It's that lad from Blur. This is his debut solo. People think he's in with a chance of winning. He's been nominated before, with Gorillaz, although they rejected the nomination in 2001. Everyday Robots is described by NME as an example of Albarn as "the foremost creative innovator of our times".
Damon Albarn / YouTube
Polar Bear – In Each and Every One 
More jazz, this time from the previously nominated Polar Bear. Drummer Sebastian Rochford writes the songs. There's a song on the album called 'They're All Ks And Qs Lucien', which might be the greatest song title of all time.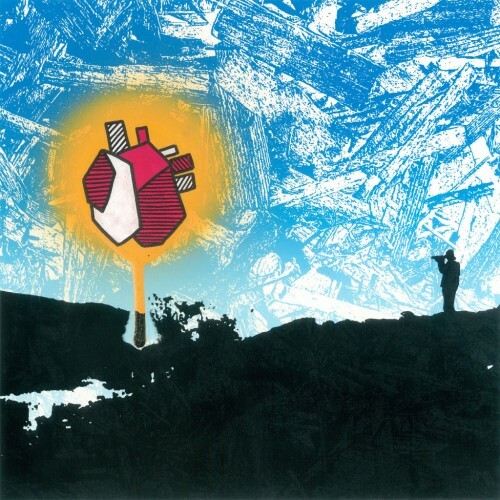 Kate Tempest – Everybody Down 
Tempest is one of the names Those In The Know say could be in with a chance of winning. (Those In The Know will mention every single nominee at some stage between now and the ceremony though. We're onto them).  She's a hip hip poet, impossibly cool, and her album tells a story of "complex and believable characters". It's time to get on board the Tempest Train.
BigaDada / YouTube
Royal Blood – Royal Blood 
Favourites alongside Damon Albarn, Royal Blood are a garage and blues rock band from Worthing. The Mercury judges have described the album as " a triumphant celebration of the primal power of rock. Intense and thrilling".
Royal Blood / YouTube
No Irish nominees?
No, but you can wax lyrical about some of the Irish acts who've been 'robbed' in the past – Fionn Regan, Villagers, Lisa Hannigan.
And what about previous winners?
Spout off names like PJ Harvey, Alt J, The XX and last year's winner James Blake and you'll do just fine.
Oh and be sure to have a little laugh about the time M People won, and throw in a:
Whatever happened to Speech Debelle?
for good measure.