LAST FRIDAY, WHEN the Referendum voting was in full swing, the official Fianna Fáil Facebook page posted this photo of their leader Micheál Martin casting his ballot: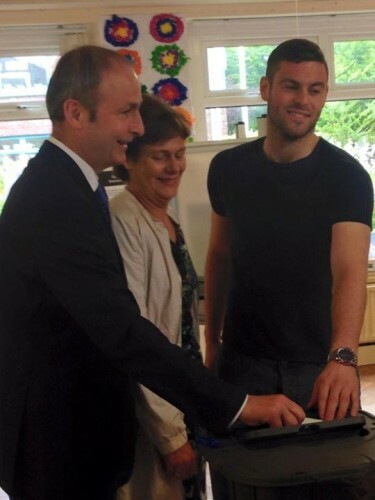 Which was all well and good – but now it's gone viral.
Why? Well, the Fianna Fáil leader's son on the right has captivated the whole internet:
The son's name? Micheál Aodh Martin – the Fianna Fáil leader's eldest son. A source tells DailyEdge.ie that Micheál is around 21 years old and not really active in politics or public life – preferring to stick to playing GAA and studying in his native Cork.
It turns out he plays for Nemo Rangers, Cork's U21s and was nominated for a club All Star award last year.
The Facebook comments underneath the photo show just how much love is out there for Micheál Aodh

Facebook Facebook
With people quick to declare their party allegiance
And predictions of future electoral success were made

Facebook Facebook
The photo is just getting swamped with positivity

Facebook Facebook
So, the unsuspecting political star of social media is now young Micheál – who also has this unofficial title:
Well done, everyone.