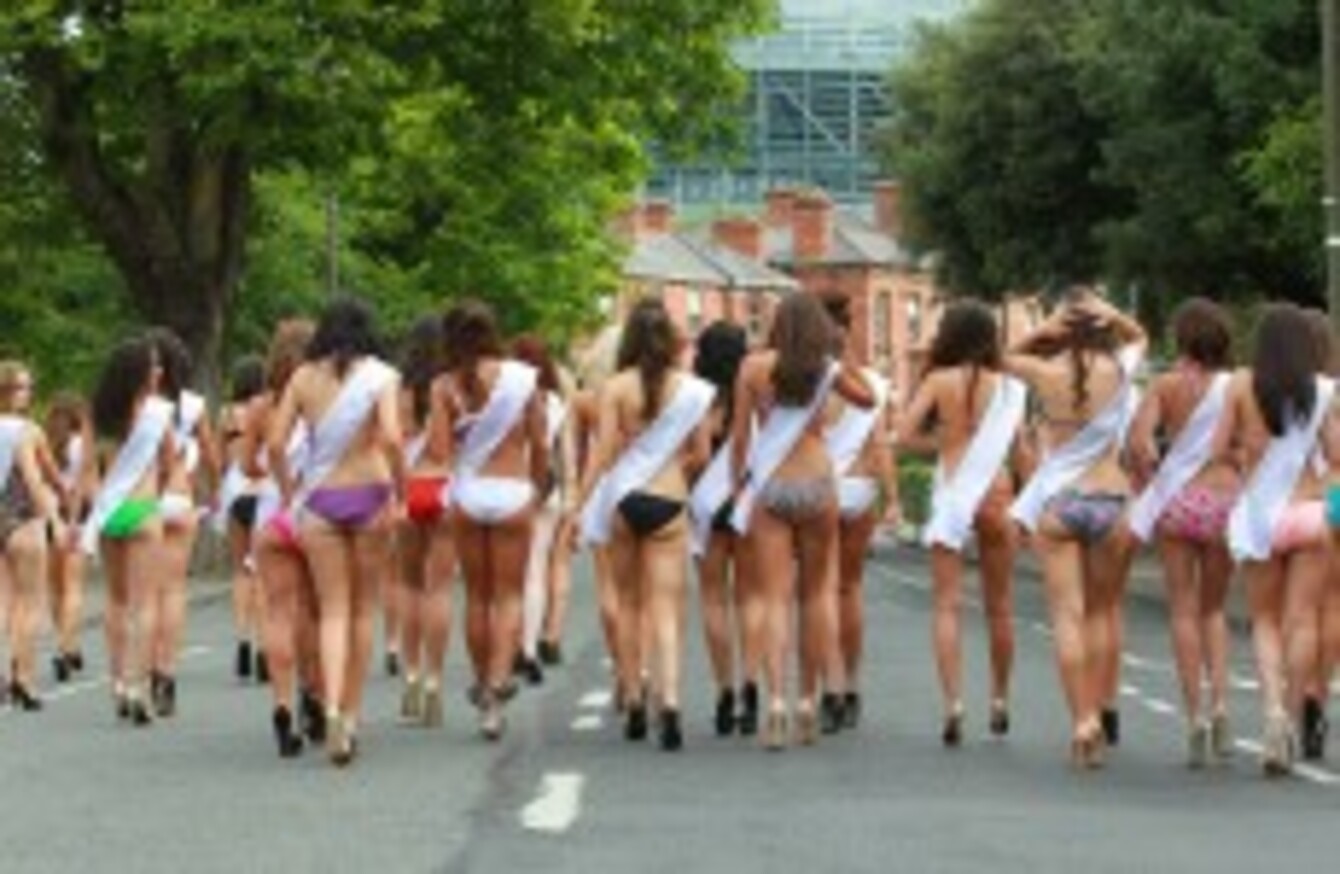 Miss Ireland 2011 contestants.
Image: Julien Behal
Miss Ireland 2011 contestants.
Image: Julien Behal
A 2FM CONTEST announced today as part of the Miss Ireland competition has come under fire after its stipulations were revealed.
The Miss Personality contest will choose a Ryan Tubridy listener to go forward to be a Miss Ireland finalist, and aims to pick a winner based on – you guessed it – personality rather than looks.
Prospective contestants are told:
It doesn't matter what you look like.
However, upon entering the Miss Ireland rounds, the winner of Miss Personality will have to partake in a closed door swimwear judging session, as well as a 'beach' segment on the night of the final.
No one wears anything that they do not themselves select. Last year some of the girls wore kaftans or sarongs- so basically, if someone wants to cover up, they absolutely can.
The contest has come under fire, particularly on Twitter.
A spokesperson for 2FM has told DailyEdge.ie:
 We recognise that pageants aren't everybody's cup of tea; but this is a viable route into the Miss Ireland competition for women who are interested in taking part and would prefer be judged on their personalities rather than their looks.
This is radio, what we do is all about personality, you don't have to be a size eight to enter and any woman who is interested in representing their country on a global platform as Miss Ireland now has the chance.
No men allowed
A number of men announced on Twitter this afternoon that they were planning on entering the contest, as the rules didn't appear to bar them.
However 2FM has told DailyEdge.ie that contestants in the Miss Personality contest must adhere to the rules of Miss Ireland:
Peter Kavanagh is one of those who filled in the (7 page) application.
He's very disappointed at the news:
Well I wanted to show it up for how ridiculously stupid it is. It's not exactly a leap forward. Beauty pageants at the end of the day are a sexist exercise.
Kavanagh also said that nowhere on the application does it say that men are not allowed to enter. He told us it "could have been a bit of fun":
Now I'll have to return the Speedo to Debenhams. It's a shame, because I'm really pretty.