ITALIAN ELECTRONIC MUSIC legend Giorgio Moroder has pulled out of his appearance at Electric Picnic this evening on medical advice.
The 73-year-old has a back injury which means he won't be appearing alongside DJ Chris Cox at the Electric Arena.
The cancellation appears to have been very last minute, as Moroder tweeted yesterday evening:

But just a few hours later he had this to say: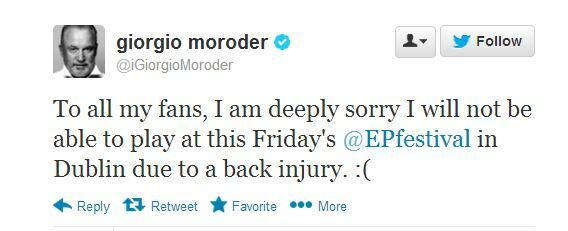 The festival is operating a reduced schedule of sorts this evening, with five acts on the main stage, and just two at the Electric Arena tent.
Moroder was due to headline that tent, and a spokesperson for the festival has told DailyEdge.ie that there will be no replacement as he's "irreplaceable".
It's also been confirmed that Chris Cox will not perform a solo set.
That means there will be no headliner at the Electric Arena this evening, meaning a boost for Fatboy Slim on the main stage, as well as the acts playing on the Body and Soul main stage and in the other festival areas.
There has been speculation since Moroder's announcement last night that LCD Soundsystems James Murphy might step up to the plate.
He was in Dublin yesterday to perform a DJ set with Shitrobot at The Sugar Club.
Murphy is also rumoured to be one of the "very special guests" at Body on Soul on Sunday night.
However, Shitrobot has tweeted:

So, the mystery continues…