THIS WEEKEND YOU may find yourself out for the bit of dinner.
And more importantly you'll be having the bit of dessert aka the best bit of any meal.
But it's not all 99s and apple crumbles these days, if you've got alot of money you can really go to town.
1. The diamond studded Christmas cake
Christmas cake is undoubtedly a highlight on the Christmas food menu especially as it is the dessert that follows a slap up meal.
But in 2005 in China, a cake worth $1.72m went up for sale.
It was the 223 diamonds that sent the price sky high.
We'll stick to our mother's sugary icing thanks.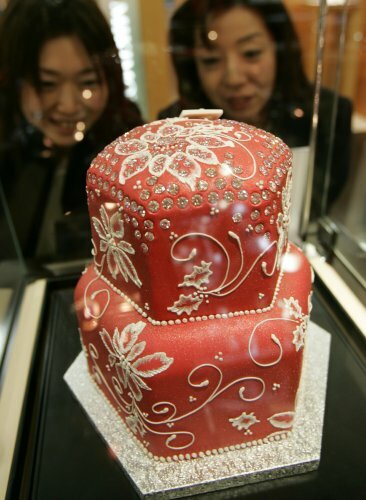 KATSUMI KASAHARA/AP/Press Association Images
2. The €48 torte
The inner Irish Mammy in us is having a bit of a fit about the idea of the Imperial Torte from The Hotel Imperial in Vienna.
It offers a good 16 portions in a nicely decorated box that you can have delivered around the world.
They say it offers "superior culinary enjoyment" but we're not sure if we'd work out nearly 50 blips for it.
via Imperial Torte
3.  The pudding that clocks in at over €25,000
This pudding decorated with gold, champagne caviar and two carat diamonds racked up a highly ridiculous £22,000 (€25897.5848) sum in 2011.
It is styled  to look like a Fabergé egg but we'll be honest and say it doesn't look that tasty.
And not just because it's way out of our price range.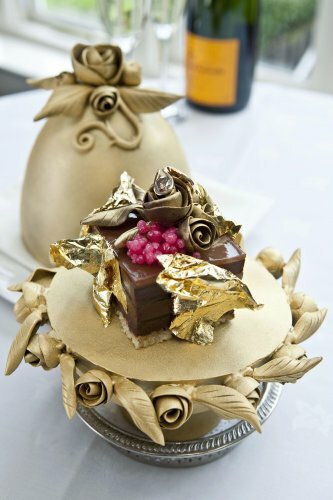 Alistair Ferrier/PA Archive/Press Association Images
4. The most expensive ice cream in the world.
If you have a $1,000 and can order an ice-cream 48 hours in advance than New York restaurant Serendipity 3 has your expensive ice cream needs covered.
We're talking gold flakes and a goblet like they have in the Vatican. Obviously:
barcroftmedia / YouTube
In fact, Serendipity 3 has form in the outlandishly expensive desserts arena, such as this pudding they made in 2010:
barcroftmedia/ YouTube
5.  Brownies that are well expensive
Brownies are a particularly yummy dessert and you can't beat a homemade one.
Well you can if you have $1,000 dollars and are visiting Atlantic City as this news report points out:
donpolecsworldtv / YouTube
6.  The pricey cupcake for a good cause
Last year, Dubai bakery Bloomsbury decided to create a cupcake that was expensive and for charity.
If you had 3,700 AED (around €774) you could splash out on The Golden Phoenix cupcake.
Not only did the cupcake come with edible gold flakes and it's own golden stand, half the proceeds from each sale went to the World Food Programme.
Being charitable and enjoying a dessert, what an amazing combination (if you're loaded).
ThePRProfessionals / YouTube
7.  Pricey but charitable ice cream
Perhaps Serendipity 3′s lavish ice creams aren't enough for you and you want to get charity work mixed in with your sundaes.
Thankfully, US ice cream company Three Twins offered up two options.
For $3,333.33 you could enjoy The World's Most Expensive Ice Cream Sundae: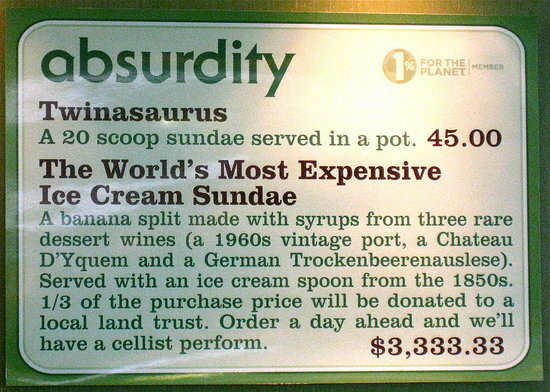 via YumSugar
Or the extra special The World's More Expensive Most Expensive Ice Cream Sundae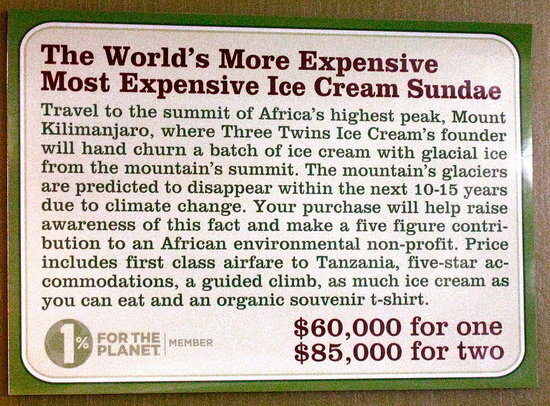 via YumSugar
Ah lads, we're going to have to fill up a whole Trócaire box before we have that weekend dessert now.