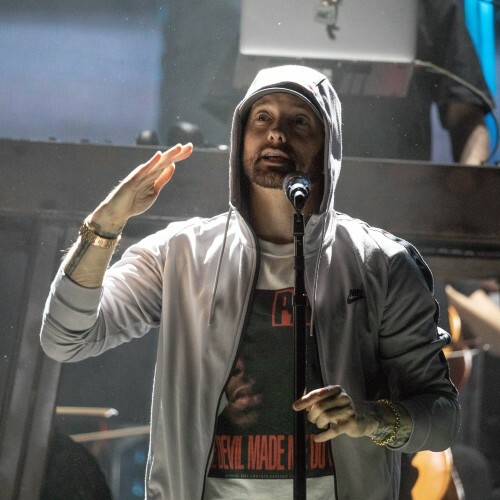 Daniel DeSlover Daniel DeSlover
EARL SWEATSHIRT ONCE said "If you still follow Eminem, you drink way too much Mountain Dew and probably need to like, come home from the army." He was probably right. Eminem released an album back in September, and chances are you couldn't name three songs from it if your life depended on it. 
Yet, the 46-year-old rapper continues to release music. He recently dropped an 11-minute-long freestyle called 'Kick-Off', which he began with a verse about the Manchester Arena bombing which took place in May 2017 at an Ariana Grande concert. 
Here are some of the lyrics:
Like an Islamic regime, a jihadist extreme radical / Suicide bomber that's seeing / Ariana Grande sing her last song of the evening / And as the audience from the damn concert is leaving / Detonates the device strapped to his abdominal region /I'm not gonna finish that, for obvious reasons. 
For obvious reasons? For obvious reasons, he probably shouldn't have even gone there in the first place. In the introduction to the song, Eminem says that a battle rap is a 'war' and "the main objective is to destroy. Completely fucking obliterate your opponent by saying anything and everything, whatever the fuck you can, to get a reaction from the crowd. So nothing's off limits." 
Unfortunately, the mother of a child who died in the terror attack stumbled across the video on Facebook. Charlotte Hodgson, whose 15-year-old daughter Olivia Campbell-Hardy died during the attack last year, told the Manchester Evening News that the song is 'disgusting and disrespectful'. Chartlotte said:
I didn't think anybody could do this and be so disrespectful to us all. It's vile and he is a vile human for doing it. Why would anyone want to listen to it for entertainment? Ariana did a lovely respectful song in memory of everyone there and that was a lovely, fantastic gesture, as she was involved too. But why would people want to make money out of such a horrific event? 
Charlotte told Manchester Evening News that the loss of her daughter still 'kills' her every day. "Olivia would have been 17 on November 28th and we had a little party for her and raised a glass, but it's just not the same." Manchester Evening News reached out to Eminem's reps for comment, but the rapper has yet to respond publicly or privately. 
DailyEdge is on Instagram!