THE NEW YORK Times' '36 Hours in' series is a lovingly put together guide to some of the world's best cities and locations – on a strict timeline.
They came to Dublin back in 2015, and today they've widened their scope on Ireland by spending a weekend in Cork.
And their story published today lavishes praise on Ireland's second city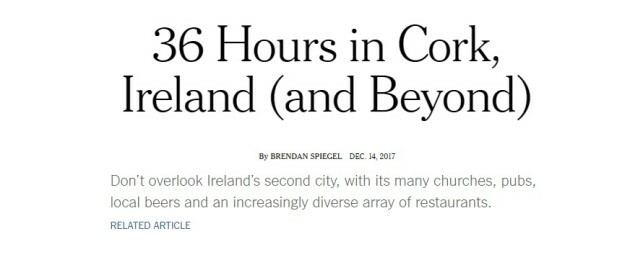 The New York Times The New York Times
Their first evening starts off at the "well-manicured campus" of University College Cork, before moving through some of the historic churches and galleries in the city.
That evening, they obviously see a rake of people tucking into curry chips:
Soppy curry fries are lapped up nightly in many a pub throughout Ireland, but the authentic South Indian cuisine on hand at Iyer's is something altogether different. At this pint-size spot, with just 10 seats and a chalkboard menu, the chef-owner, Gautham Iyer, serves up an Ayurvedic menu in which local seasonal vegetables take center stage.
Now forever known as "soppy curry fries".
Later that evening, they move on to the drink:
Trade the bright flavors of India for the dark, swanky interior of Elbow Lane Brew & Smoke House, a restaurant with an in-house nanobrewery.
Their license requires that you order something to eat, but even the olives that come with a flight of three house-brewed beers (9.90 euros) will do.
On the second day, they give shoutouts to The Rocket Man Food Co, vintage clothes store Carousel, and menswear store Salingers. They then take a short drive to Kinsale:
The narrow streets are lined with charming boutiques like Mamukko, where Hungarian brothers Levente and Attila Magyar sell coastal-inspired gear like messenger bags "upcycled" from reclaimed sails. After shopping, grab one of the small tables at the front of the Bulman bar to dive into fish and chips (14.50 euro) with a view of the harbor; if it's a month ending in "r," there are also native Irish oysters bathed in leeks and Gruyere (15.50 euros).
They really do pack in the treats in such a short space of time – like this haul in Bastion:
Start with prosecco on tap, mixed in cocktails like the Hugo (with fresh mint, pomegranate and elderflower; 7.75 euros), and stay for a delectable dinner.
Guinness sourdough with treacle butter so light and airy you'll have a whole new view on treacle.
gorgeously plated dishes like foie gras with poached rhubarb, mustard leaf and brioche croutons
Such a spread.
Later that evening, they even sample poitin in Cask:
The painstakingly prepared drinks (from 10 euros) combine local liquors like poitin (a traditional Irish distilled spirit) with flavors both trendy (white balsamic shrub seltzer) and playfully uncool (lime sherbet bitters).
From Cork's finest Japanese cuisine to "hip neighbourhood cafes", The New York Times paints a seriously cool picture that will be whetting the appetites of travellers coming to Ireland in the near future.
You can read the full guide here, and Cork comes across as food and drink heaven.
DailyEdge is on Instagram!