EVERY WEEKDAY MORNING, DailyEdge.ie rounds up the best of the day's celebrity dirt – from the top to the very bottom.
Niall Horan was caught on CCTV dancing around his hotel corridor in his pants. The footage, which has emerged online, shows Nialler and his band-mate Harry frolicking around the halls of their Buenos Aires hotel during the band's latest tour.
The questionable dancing we can excuse, but tighty-whiteys? You're better than that, Niall.
Biankita Castillo / YouTube
Well, when your whole life is soundtracked by a constant collective tween-scream, you take all the comfort you can get. The band are currently stopping by South America on their world-wide stadium tour, and fans are just as mad there as everywhere else, with poor Nialler constantly tweeting them to be safe.
Rosanna Davison did NOT invite Prince Harry to her wedding, OK. According to the Birmingham Mail, Davison reportedly had Harry, his father Charles and stepmother Camilla on the guestlist for her lavish nuptials, set to take place in Ibiza with an afterparty on June 21 in Enniskerry, Wicklow.
Of course, her father Chris de Burgh 'connections' to the monarchy so they're probably BFFs and this is completely reasonable.
However, speaking to the Irish Daily Star, the model denied reports saying
It's the funniest story I've read in a long time but it's sadly not true. My single friends would love Harry there no doubt.
Sadface.
Next question, is Enda going?
rosanna_davison rosanna_davison
Have Kim Kardashian and Kanye West done something completely out-of-character and gotten married in PRIVATE? No, it seems.
According to reports over the weekend, the pair were rumoured to have had a quickie civil ceremony in Los Angeles before they will jet out to France later in the month for the ceremony.
However another source has rubbished the claims, telling People.com that nothing has been made official as of yet. Why must they leave us with constant baited breath?
The pair attended the MET Ball last night and posed with Anna Wintour after their controversial Vogue cover. Seems all is well between them though. God bless us, everyone.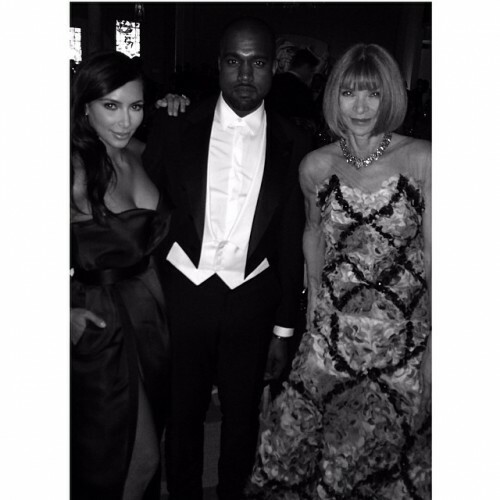 kimkardashian kimkardashian
And the rest of the day's dirt…
Rihanna's Instagram has been deleted due to her nude photos. (DailyEdge.ie)
Beyoncé lost a ring on the MET Ball red carpet but Jay Z found it. PHEW. (Daily Mail

)

Speaking of the MET ball, a streaker crashed the red carpet in a mankini. Gas ticket. (

Perez Hilton

)

Adam Levine has bleached his hair and it's… something. (Hollywood Life

)

Adele celebrated her 26th birthday with Alan Carr and Example. Our invite got lost in the post. (Daily Mail

)