ONE DIRECTION STAR and Mullingar man Niall Horan has given a nod of approval to a museum dedicated to music in his hometown.
A proposal to turn the building currently used by Mullingar Town Council into a tourist attraction was put forward at a recent area meeting of Westmeath County Council.
The town has seen a resurgence in musical interest since 20-year-old Horan found worldwide fame with One Direction.
Fianna Fáil town and county councillor Aidan Davitt told DailyEdge.ie that he proposed the motion to set up a museum honouring Mullingar's musicians in Market House.
The building will become vacant in May with the abolition of the town council.
Davitt said he's been in touch with Niall Horan about the idea of a museum, and that he's "quite supportive" of the proposal. Horan's mother has said she's behind the potential project.
The boybander regularly returns to Westmeath; Davitt said he was "over last week", and that he moves as normal through the town, albeit with increased attention from the local teenage girls:
You could meet him in one of the shops, he plays golf out in Mullingar, or you might see him later that evening socialising with friends.
He's a great kid and his feet are very much on the ground.
Horan tweeted a request for some privacy earlier this month when he was back in Westmeath:

A statue of another famous Mullingar son – Joe Dolan – stands in front of Market House, and it's proposed that the likes of Niall Breslin (Bressie), Emmet Cahill and Foster and Allen could also be honoured.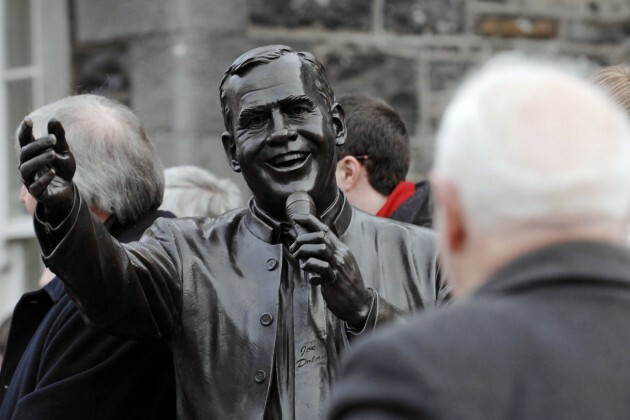 Photocall Ireland Photocall Ireland
He also said that the attraction for tourists is undeniable:
Americans come to Mullingar out of curiousity, because of Niall Horan, and because it's only an hour from Dublin.
Davitt also said that One Direction fans from all over the world have visited the Westmeath town.
Davitt's proposal was seconded by his fellow Fianna Fáil councillor Ken Glynn, and supported by Fine Gael's Fintan Cooney and Mick Dollard of the Labour Party.
The motion is now being considered in advance of the next meeting of the County Council, which has responsibility for deciding what the building will be used for after May.
H/T to Westmeath Examiner