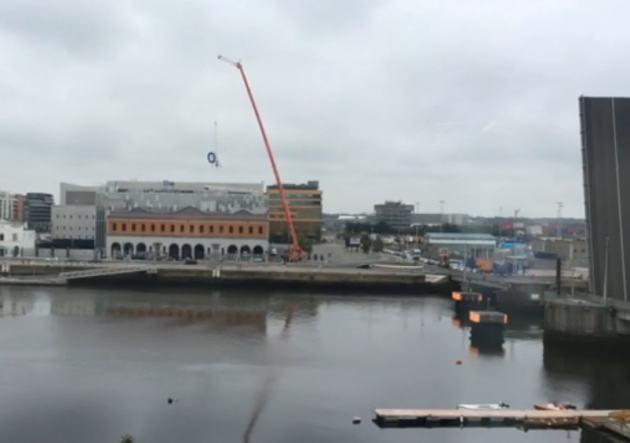 Aleesha Tully The O2 branding has been removed from The Point today. Aleesha Tully
IT WAS A tough transition to get our heads around.
The change of the  name of Dublin's Point Theatre – known to us all as 'The Point Depot', or simply 'The Point'- to 'The O2′ in 2008 was met with suspicion and derision.
That'll never catch on.
… we pessimistically prophesised.
Who are they trying to cod at all?
… we head-shakingly predicted.
But, it did catch on. We went to see Rage Against the Machine at 'The O2′, we went to see Paul Simon at 'The O2′, we went to see Beyoncé, Jay Z and Kanye at 'The O2′.
Hey, where is that Arctic Monkeys gig on again?
The O2.
Against the odds, we stopped calling it The Point (well, a large number of us did) and we started calling it The O2.
And now, they're changing it again. In May the takeover of O2 in Ireland was approved by the EU and in June the sale was completed, with Three (an Irish subsidiary of Hutchinson Whampoa) paying around €850m to Telefonica for O2.
Today The O2 branding was removed from The Point in advance of the announcement of the new name for the music venue. The process was caught on camera by Aleesha Tully:
DailyEdge.ie / YouTube
The new name is expected to be announced sometime between now and next Wednesday, when Three will hold a launch event in the venue calling it "the start of an exciting new era for live music in Ireland".
A spokesperson for Three told DailyEdge.ie that they couldn't tell us anything about the timing of the release of the new name just yet.
But what will they call it? The Three? Can we come to terms with calling it The Three? Or will they surprise us with something else? All suggestions welcome.
Any predictions/hopes for the new name? Let us know in the comments section…