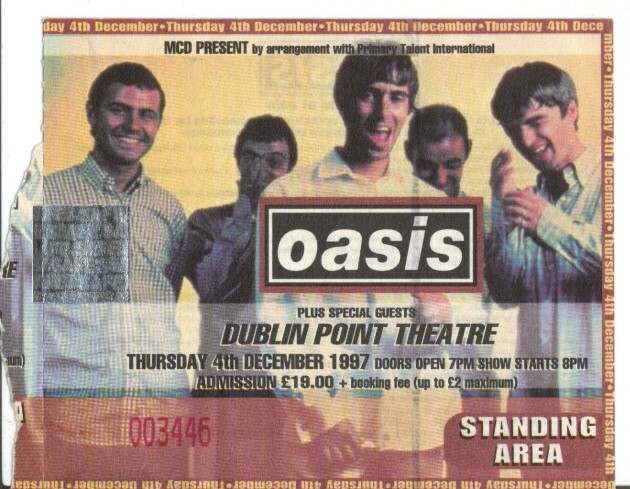 DontStopLiving.net Ticket from the band's 1997 Dublin gigs. DontStopLiving.net
IF CLUTCHING YOUR fresh new copy of Definitely Maybe or What's The Story, singing along to Wonderwall or Whatever in your bedroom or going to one of those legendary Oasis gigs in Dublin or Cork in the mid nineties stirs some memories for you, then you should probably go and see the new Oasis documentary Supersonic.
Premiering last night in Smithfield's Lighthouse cinema, the film drew some minor singalongs, lots of laughs and maybe even the odd tear as the nostalgia piled on thick and fast.
Supersonic follows the band from their formation in a rehearsal room in Manchester to those massive 1996 gigs at Knebworth which saw them play to half a million people over two nights.
Dublin days
Earlier in 1996 the band played two sold out nights at Dublin's Point Depot as part of their What's the Story Morning Glory tour.
Noel's performance of Wonderwall nearly took the roof off the place as the crowd took over singing duties.
ConorCM91 / YouTube
Noel followed the Friday night Point show with a trip straight over to the Late Late, where he performed live acoustic versions of Live Forever and Wonderwall, as people raced to get home from the gig in time to see him.
corkpoitiers / YouTube
Those Point Depot gigs get a major shout out in Supersonic, which pieces together incredible footage from the nineties with memories from Liam, Noel, Bonehead and other big players in the Oasis journey.
Noel pinpoints the Dublin gigs as one of the most important milestones of the time, and singles it out as being particularly emotional, because of the brothers' Irish roots. Both their mother Peggy and estranged dad Tommy are Irish.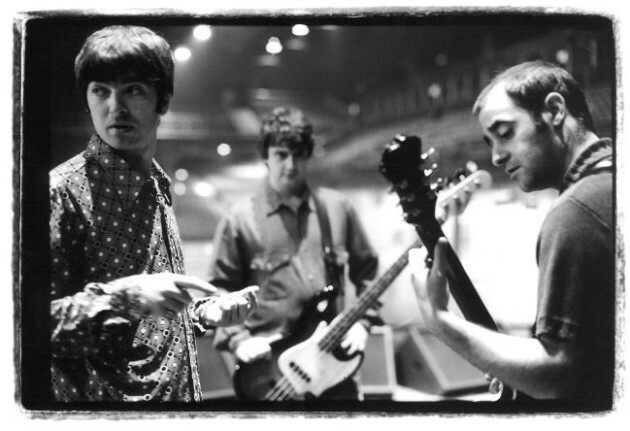 @oasis Noel, Guigsy and Bonehead in The Point Depot, 1996 @oasis
Supersonic also details how the Gallaghers' father showed up in the bar of their hotel after one of those Dublin gigs, having not laid eyes on his sons for several years, and a subsequent phone call recorded by The News of the World saw Liam threatening to break his father's legs if he came anywhere near them.
It's claimed that the paper paid him to go to the hotel to try to speak to the boys, in an effort to facilitate a 'reunion'.
Oasis played a massive gig at Cork's Pairc Uí Chaoimh later that year, just a few days after their legendary Knebworth shows.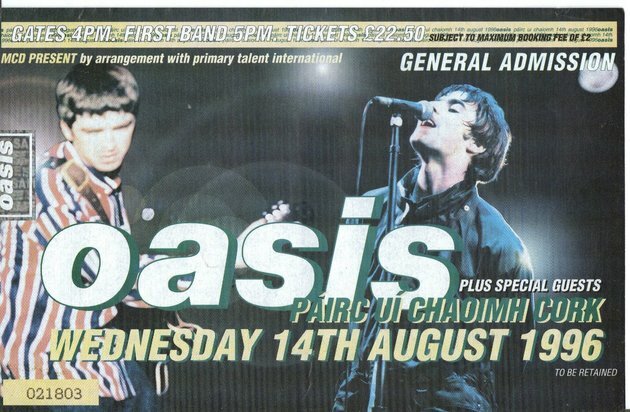 DontStopLiving.net DontStopLiving.net
They also returned to the Point in December 1997, when Liam pulled out of two of the three shows with a 'sore throat' and could be seen sitting in the balcony for the duration of the gigs while Noel carried out singing duties.
Rob Shiels / YouTube
Supersonic opens in select Irish cinemas on 7 October.
Got any Irish Oasis memories? Share them in the comments…