BONO WILL REPORTEDLY be treating Michelle, Malia and Sasha Obama to a spot of lunch in his local today.
Finnegan's Pub in Dalkey has ramped up the speculation that the U2 frontman will be dining with the first lady and the first daughters there this afternoon, tweeting that they'll be closed until after lunch.
They've also lobbed up a Star Spangled Banner to welcome the Obamas.
Michelle and her daughters are heading to Wicklow today to visit Glendalough before going to Dalkey for lunch.
Preparations are underway in the south Dublin village, with bins covered in plastic bags and traffic restrictions implemented.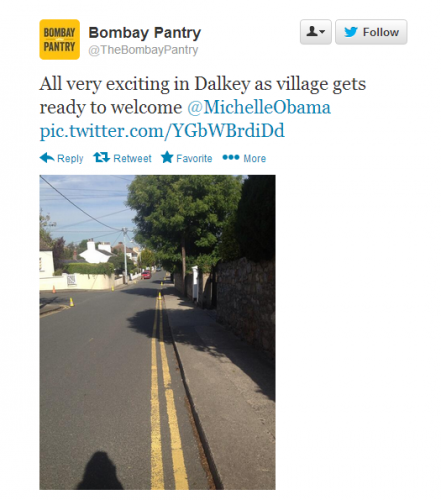 Meanwhile the local Paddy Power bookmakers has wasted no time in giving the store a facelift this morning in advance of the visit:
Pic courtesy of  @CornerNoteCafe, Dalkey
Bono occasionally takes a seat at the bar in Finnegan's for a sup and a chat, much to the delight of visiting tourists:
YouTube/TeamJet1
The late Maeve Binchy was also a regular visitor to Finnegan's, and lived on the same road as the pub.