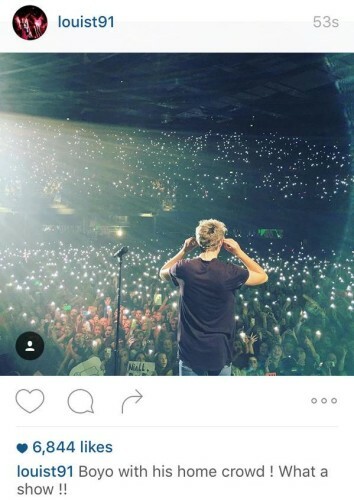 Louis Tomlinson on Instagram Louis Tomlinson on Instagram
NIALL HORAN WAS treated to a homecoming last night at Dublin's 3Arena as One Direction took to an Irish stage for the first time as a four piece (HOW COULD YOU ZAYN?).
https://vine.co/v/e9uPjmbVw2l
Horan and bandmates Harry Styles, Louis Tomlinson and Liam Payne played the first of three nights and the crowd were privy to a range of Irish-isms from the whole gang.
An obvious choice was Harry's now-famous back catalogue of Irish accents, from imitating a Dublin fruit seller, to chatting about the train to Mullingar.
In fact, he went full Hardy Bucks:
Sarah Doran / YouTube
This isn't the first time Harry's shown an interest in the Dublin-Sligo train.
It seems to be something of a running joke between him and his Westmeath pal. Back in 2014 the pair had a back and forth about it on the Croke Park stage.
Horan also spoke from the stage about his appreciation for the signs reading "Fáilte abhaile Niall" and claimed that the screams for him could be heard 'from Cork'.
Sarah Doran / YouTube
Thanks to Sarah Doran for the videos. Thanks to Zayn for NOTHING.