HANG ON TO your hats everyone – this man has just thrown down the gauntlet to Ellen DeGeneres, saying he wants to beat her Oscar selfie record.
The Oscar host's now legendary selfie, featuring a gaggle of A-listers, managed to break Twitter and surpass Obama's 'Four More Years' tweet as the most retweeted of all time.
Currently, the number of retweets stands at a whopping 3.2 million.
Last night Texan Terry Shipman posted this photo of him and his two extremely cute puppies to his then-20 followers, in a bid to beat Ellen's Oscar record.
The internet immediately obliged him.

Twitter / @terry_shipman Twitter / @terry_shipman / @terry_shipman
We think the adorable dogs are helping his cause enormously.
At the moment, Terry's selfie has over 44,000 retweets. Still a long way to go before he beats Ellen's mammoth record, but he's got the support of Sports Illustrated model Chrissy Teigen:
And his son is 100% behind him.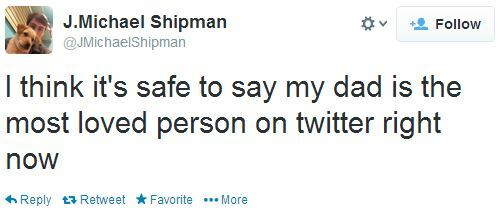 Go on, do your good deed for today and give old Terry a retweet. Make his dream come true.