THE OSCARS HAVE just wrapped up over in Los Angeles, with Spotlight taking Best Picture and Mad Max: Fury Road emerging as the big winner of the night.
This year's show was one of the most entertaining in recent years, with host Chris Rock doing a great job of keeping things ticking over while also taking on the controversies surrounding the ceremony. Here are 13 of the best moments.
Chris Rock addressing the #OscarsSoWhite controversy straight out of the gate
Pollo Tix / YouTube
Rock was ON FIRE. His entire opening monologue consisted of home truths, including: "You're damn right Hollywood is racist." Fair play.
Gif via Vulture Gif via Vulture
"Oh no, the camera's on me. Should I laugh? Maybe I'll do a slight chuckle."
Tracy Morgan aping Eddie Redmayne in The Danish Girl
Easily the highlight of Rock's skit inserting black actors into some of the nominated movies.
https://vine.co/v/igWHn5Yr0JQ
"I'M THE DANISH GIRL!"
Michael Fassbender's face when girlfriend Alicia Vikander won Best Supporting Actress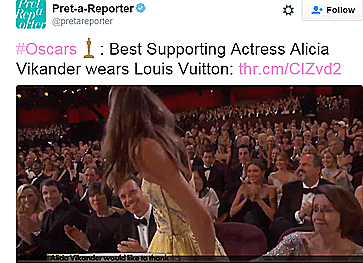 Twitter Twitter
BEAMING with pride. And the reaching hands!
This Stacey Dash gag
https://vine.co/v/igWIp59hxAI
Important if only for being the most baffling moment of the night.
Though she shot to fame as Dionne in the 90s classic Clueless, Dash is now known for spouting conservative views on Fox News…. So the Oscars decided to bring her out to wish everyone a happy Black History Month.
Chrissy Teigen's reaction said it all:
Jared Leto saying 'merkin' in front of millions of people around the world
He was presenting the award for Best Hair and Makeup, in fairness to him.
For the blissfully unaware, this is what a merkin is.
Alejandro Inarritu refusing to clap for Best Costumes winner Jenny Beavan
https://vine.co/v/igWT9HBUnXp
Proving that you can be an award-winning director and still pout like a toddler when your film doesn't get the gong.
The continuous Will Smith trolling
Smith and his wife Jada very publicly boycotted the Oscars this year, and host Chris Rock threw several burns in their direction. This Jack Black gag was next level:
Can't see the video? Click here.
Benjamin Cleary roaring "SLÁINTE!" as he left the stage after his win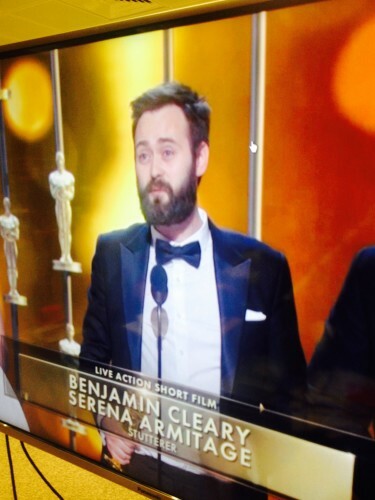 DailyEdge.ie DailyEdge.ie
The Irish director won Best Short Film for Stutterer, and came back to the microphone specifically to tell everyone to drink. Good lad.
Noted Star Wars superfan Jacob Tremblay craning his neck to see R2-D2, C-3PO and BB-8
https://vine.co/v/ig7Bq1g5W93
Bless his heart.
Woody and Buzz presenting Best Animated Feature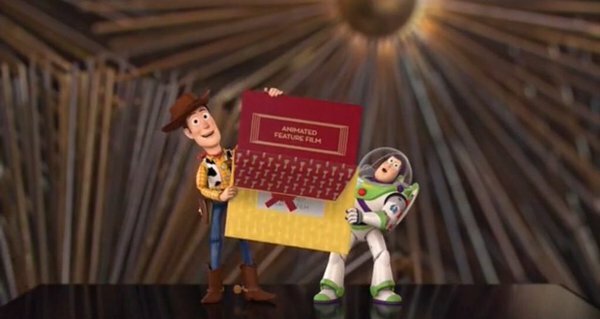 Twitter / @DisneysSecrets Twitter / @DisneysSecrets / @DisneysSecrets
And hitting hundreds of thousands of viewers right in the childhood.
Lady Gaga getting a standing ovation for her performance of Til It Happens To You
The song was composed for The Hunting Ground, a documentary about sexual assault on US college campuses. At the climax of a very passionate performance, dozens of sexual assault survivors joined Gaga on stage. Powerful.
And Leonardo DiCaprio finally, FINALLY winning that Oscar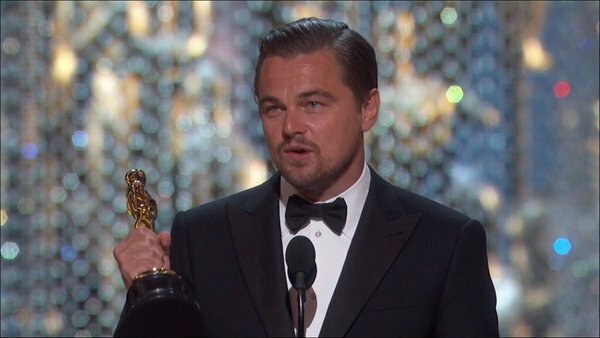 Twitter / @ohhsomerhalder Twitter / @ohhsomerhalder / @ohhsomerhalder
He too got a standing ovation, and the loudest cheers of the night. You can rest now Leo. No more eating raw meat and getting mauled by bears. Rest.
DailyEdge is on Snapchat! Tap the button below to add!