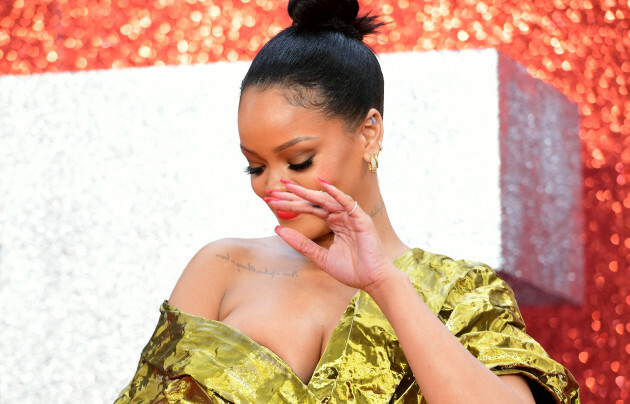 Ian West Ian West
IT'S HARD TO deny that Rihanna seems like a very sound individual. 
The 30-year-old has spent almost half of her life in the public eye and has never lost the run of herself. She's down to earth with fans and has put a lot of work into funding emergency response programs around the world with the Clara Lionel Foundation, which she is head of. She criticised Donald Trump's unsatisfactory response to the damage that Hurricane Maria caused in Puerto Rico in Autumn 2017 and has been dedicating much of her downtime to international diplomacy. 
Somehow, with all of that on her plate, she has found time to work on a new album to follow up 2016′s masterpiece, 'ANTI'. We don't know when it's set to be released, but she teased on a recent Graham Norton appearance that it may possibly be out before Christmas. Regardless of whether the album actually meets that deadline or not, Rihanna's going to need to start promoting the album eventually. 
She was presented with the perfect opportunity – the NFL invited her to perform at the Super Bowl halftime show this year, a show which draws in about 111 million viewers on average. That's not counting the millions of views a halftime performance could amass in the following days and weeks, when people who don't like American football look it up online to catch up. 
Surely, she'd be mad to turn that down. And yet, here we are. BBC Sport have gotten in touch with NFL for comment on reports that Rihanna declined an invitation to perform, and the NFL have refused to address these reports.
The reports were published by Entertainment Tonight who were told by a source close to Rihanna that the Grammy-winning singer "stands with the players and Colin Kaepernick" and has made her decision not to play at the Super Bowl based on "the situation regarding players kneeling." 
The "kneeling situation" refers to Colin Kaepernick's decision to kneel during the national anthem in 2016, which he did in protest of police brutality and social inequality. Kaepernick was subsequently blacklisted from the NFL, and condemned by Donald Trump who remarked that it's "unpatriotic and disrespectful to military members" to take a knee during the national anthem. 
A number of US soldiers spoke to the New York Times about how they were perfectly happy with Kaepernick's peaceful protest. The night before NFL season kicked off, Nike released their new campaign featuring Colin Kaepernick and it was met with fury from people claiming that they would boycott the sports-brand, and applause from those who were pleased with the campaign. In fact, Nike stock prices hit an all-time high after Colin Kaepernick featured in their advertisement.  
Rihanna has since been replaced with Maroon 5, who will headline the halftime show on February 3rd 2019. Fans on Twitter have thanked the singer for her massive show of solidarity. Earlier this year, Jay Z also slammed the NFL on his new album with Beyoncé:
I said no to the Super Bowl. You need me, I don't need you. // Every night we in the endzone, tell the NFL we in stadiums too.
It will be interesting to see if Maroon 5 are still happy to go ahead with their performance after this news.
DailyEdge is on Instagram!