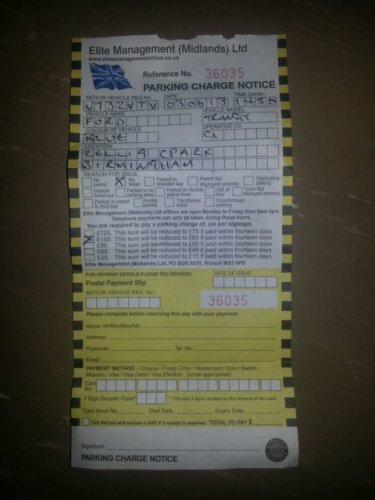 THIS IS THE parking ticket which a magician named Dave was handed this week, as he stopped to pick up a couple of things in Birmingham.
Not knowing how to pay it (by his own account), Dave took an unusual step: turning to eBay.
He listed the ticket for sale, admitting that it was his "own fault" that he got it but pleading financial hardship. He added the argument:
Essentially you are buying a slap in the face to the system which must never be questioned and purchasing yourself a big smile for the future whenever you feel down.

Dave was hopeful that his campaign would find a willing donor:
There must be one person who has done well in life and can relate to this very small horror story who would like to buy it from me and smile for several days knowing they did a great thing.
And unexpectedly, it found loads. Probably being covered on the Huffington Post, the Metro and MSN helped.
After several people contacted the performer directly offering to pay the fine – and he was "overwhelmed" by hits on the advert – Dave realised that he had the power to do something more.
He posted an update saying that he was turning the auction into a fundraiser for a "deserving family" – his friend Kirsty Witton who, Dave says, suffers from recurring brain tumours.
With three days to go, the current bid stands at £84. Want to bid more? The ad is here.