IT HAS BEEN translated into numerous languages and remixed for a charity single but now Panti's inspiring speech about oppression has been picked up by one very special act.
The main woman took to Facebook last night to reveal that the Pet Shop Boys had only gone and remixed a very special version of her Abbey Theatre speech.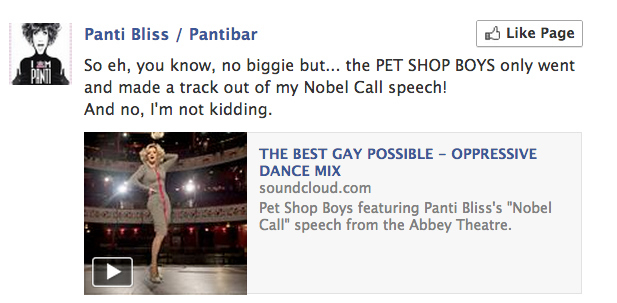 The track is called The Best Gay Possible – Oppressive Mix, and makes for some very chilled out listening. You can hear it in full on soundcloud.com.
The lads aren't the first people to create a tune from the iconic speech though.
Dublin-based music maker Out!rage released his own remix just last month, will all proceeds from downloads of the single going to Irish charity BeLonG To, LGBT Youth Services.
Outrage Dublin / YouTube