UPDATE: Pharrell's publicist says singer had 'no knowledge' of Newry gig>
B.E.D NIGHTCLUB IN Newry certainly 'got lucky' (groan) with this one.
Yes, after supporting Kanye West at his Marlay Park gig next Wednesday, Pharrell Williams will be heading up north to make an appearance at the Co Down club on Saturday.
Really.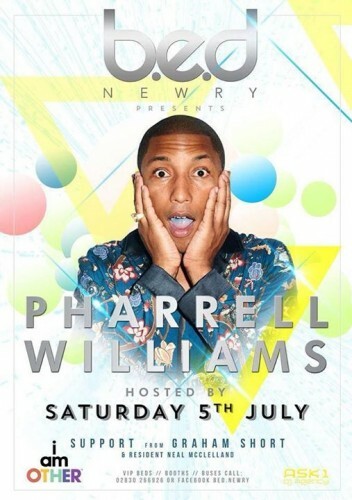 Facebook / B.E.D Newry Facebook / B.E.D Newry / B.E.D Newry
Tickets for the night are on sale now and apparently "flying out fast" – but some people must have thought the whole thing was a bit suspect (understandably), so the club have gone to great pains to dispel any ideas that it's a hoax:
As you can see we have tagged Pharrell's official Facebook and our artwork has his official logo (I Am Other)! THIS IS 100% LEGITIMATE OR HIS LEGAL TEAM WOULD DEMAND THAT WE REMOVE IT!
So that's that then. Pharrell. Newry. Next Saturday night.
We don't know either.
h/t Joe.ie