IN THESE TRYING times, two people are almost single-handedly lifting our spirits every day. Those people are Holly Willoughby and Phillip Schofield, the delightful hosts of ITV's This Morning. Here's why you just have to love them.
1. Firstly, Phil's Snapchat
Snapchat Snapchat
It is so pure and good. (He's phillipschofe on there if you want to follow him.)
2. And knowing that Holly will always put up where her outfit was from on Instagram
And the clothes are rarely prohibitively expensive either. An invaluable service from Hol.
3. When they get the giggles over absolutely nothing
This Morning / YouTube
"Oh no! This is the worst it's happened for AGES!" Ah, we love them.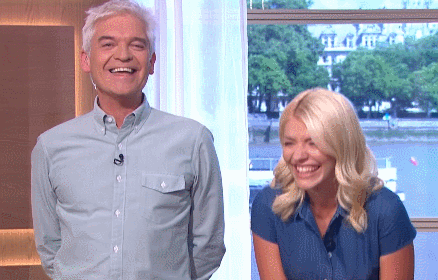 YouTube YouTube
4. When Phil got into the chocolate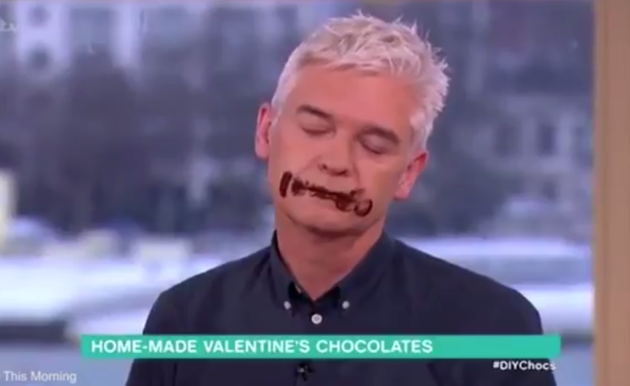 Twitter / @TORREYDEVITTOS Twitter / @TORREYDEVITTOS / @TORREYDEVITTOS
Relatable.
5. When they presented This Morning half cut after the National Television Awards
YouTube YouTube
Holly hadn't been home, and arrived in her dress from the night before with stains all over it from playing the Pie Face game. Phil was still wearing his suit.
In fairness, they had won an award, and Ant and Dec were having a party, and Rylan was feeding them shots. We'd have done the same.
6. When Phil dropped this line after interviewing a couple who claimed to have 18-hour orgasms
This Morning / YouTube
At any other time, "still to come" would have been completely innocent. But not this time.
7. In fact, every time they've just gone straight for the innuendo without shame
simonj2 / YouTube
It's inspiring.
8. And tried to get a rise out of chef Gino D'Acampo
spikeyroberto / YouTube
Holly: "If this [macaroni cheese] had ham, it's closer to a British carbonara."
Gino, in genuine disbelief: "IF MY GRANDMOTHER HAD WHEELS SHE WOULD HAVE BEEN A BIKE!"
9. When Phil had absolutely no time for a homophobic and transphobic guest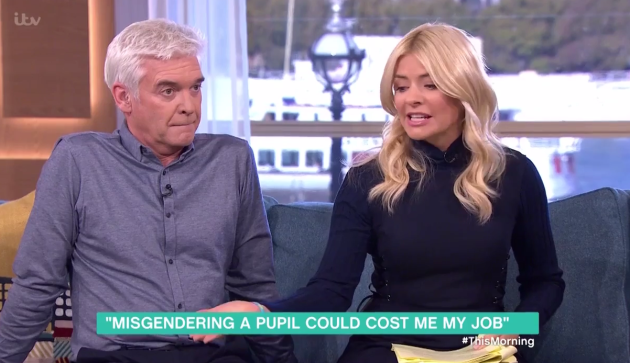 Evening Standard Evening Standard
When tasked with interviewing a woman who believed it was 'not good' for children to identify as gay or trans, he found it difficult to hold back:
I'm finding this utterly abhorrent… We'll get back to the show and back to 2017 instead of medieval Britain.
TELL THEM PHILLIP.
10. When they interviewed a man and his sex robot
This Morning / YouTube
Why- why- why… Why is this necessary?
They didn't really know what was going on, and neither did anyone else to be quite honest.
11. When even Phil had to admit that some of the content was less than thrilling
digitalmediafan / YouTube
This week, Diarmuid Gavin pays a visit to Birds of a Feather star Leslie Joseph's garden, where he enlightens her on the possibilities an inner-city plot can provide… *giggles* Did I make that sound interesting?
It's grand Phil. Sure it's This Morning, not Panorama.
12. And also knowing that they're actually best pals
They present together on TV Monday to Thursday, and then they head off on holidays together too. Stop it, the pair of you. You're too adorable.
DailyEdge is on Instagram!