LOOK, IT DOESN'T matter who you are or where you're from – if you're a gal, you've probably participated in or been the instigator of one of these photos. No shame.
1. A photo of you and your pals crouched in a half-squat
This pose was highly popular for a time in the mid-2000s. Scientists are still working to understand why.
2. And one where you're standing crotch-to-crotch with your hands on your hips
Sassy!
3. A full-length one of you standing in the kitchen/hallway/garden, wearing a fancy outfit
A rite of passage for anyone attending a wedding, Debs, graduation, or ball. Extra points if there's something embarrassing in shot, like a childhood photo or a rake of dirty plates.
4. A photo of a glass of wine/cocktail and a cheeky caption
God you're a mad bitch! Fair play to you.
5. A photo of three of you copying the Charlie's Angels pose
A classic.
6. A 'nice' photo with Himself/Herself done up for a fancy dinner out
It better be 'nice', because it'll be your lock screen for the next six to eight months.
7. A photo of you and a pal sitting somewhere unusual, like in a bath at a party
See also: In a shopping trolley, on a counter at a chipper, etc. Mad bitches who just can't be stopped!
8. A selfie with a Snapchat filter that you reckon makes you look cute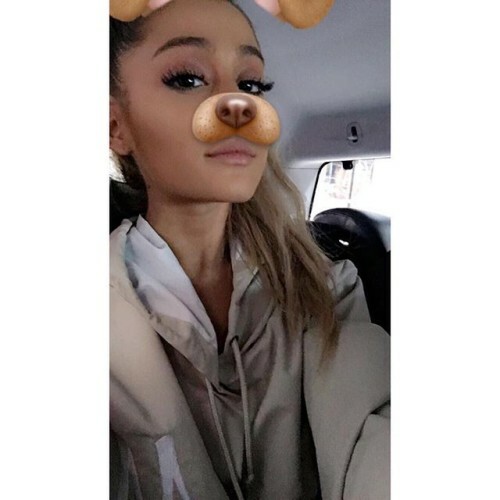 Instagram / arianagrandeupdatesx Instagram / arianagrandeupdatesx / arianagrandeupdatesx
You were too mortified to post it, but you like to have it there in your Photos folder all the same.
9. A 'Is this dress/top/skirt nice? Don't mind the socks' changing room mirror selfie
For the Whatsapp group/your mam's eyes only.
10. A "Whaddup bitches I'm on me holidays" photo
A semi-ironic 'hot dogs or legs?' shot, maybe; an elaborate meal; or an exotic sunset? The choice is yours.
11. A selfie taken when you were tipsy and ~feeling your look~
These often turn out to be the best selfies. Stand by them.
12. And one of you and all your mates piled into a toilet cubicle
Precious memories!
DailyEdge is on Snapchat! Tap the button below to add!