Every month we look at the worst that's on offer in the Dublin rental market. Here's a roundup of the most shocking properties that were available to rent in Ireland's capital this year. 
1. This Donnybrook property that generated very little interest between July and October.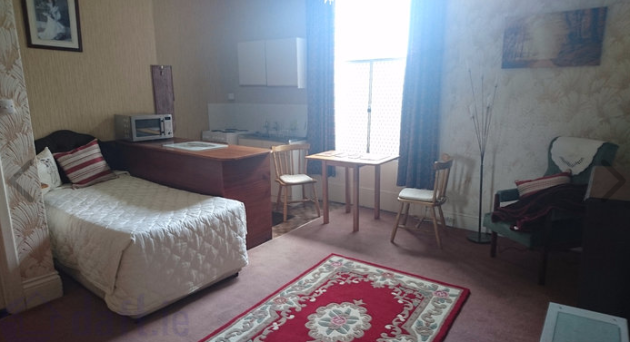 Daft Daft
In July, this property which looks like the set of Father Ted, was priced at €660 per month.
Months later, it remained online with a price increase of €90 – bumping it up to €750.
They explicitly state that students are not welcome and that this studio is more suited to a "mature female". In fairness, Mrs. Doyle would be right at home here.
2. Then there was this Drumcondra studio on the market for €540 per month.
Aside from looking like the bed in a GP's office, the strangest thing about this bed is that mattress is somehow too long for the divan.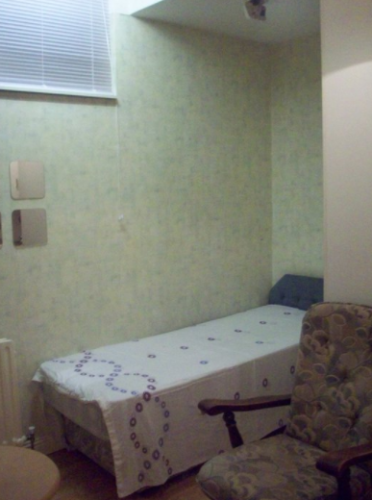 Daft Daft
3. This €850 per month flat in Whitehall.
Daft Daft
The price presumably includes all of the newspapers and Topshop bags secured to the door to offer you the utmost privacy.
4. The world's smallest kitchen/living room was up for rent in Harold's Cross – at an astounding €680 per month.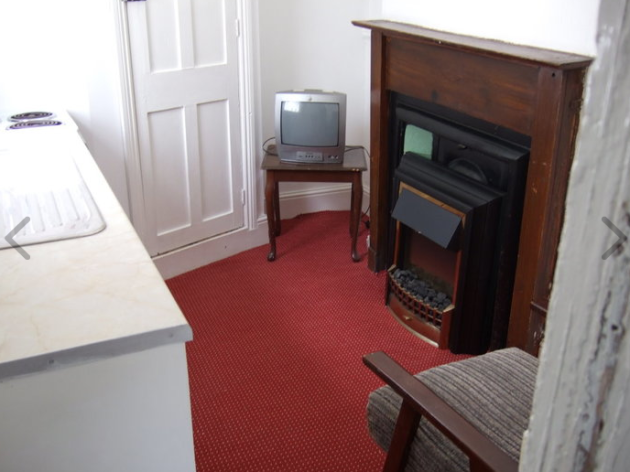 Daft Daft
What is this? A kitchen/living room for ants?
5. Or maybe you're more interested in getting your hands on the smallest fridge in Dublin? €1,000 a month in Rathmines.
Daft Daft
When you spend this much on rent for a studio apartment, you understandably have no money left for food. So it only makes sense.
6. This room that is inexplicably laden with balloons.
€450 a month in Phibsborough, not including utilities such as exorcisms and a good supply of sage to burn.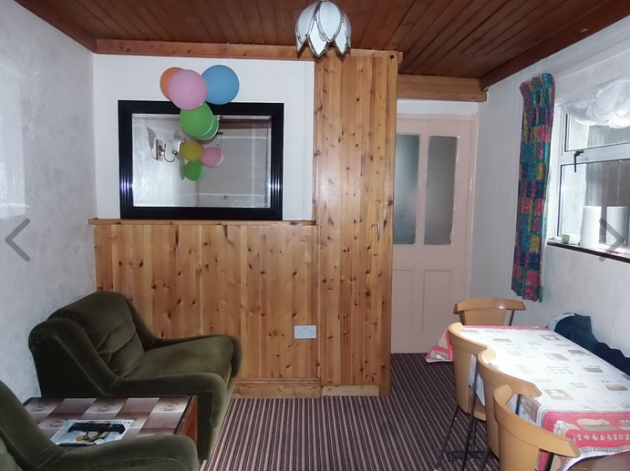 Daft Daft
7. One half of a bunkbed (and your very own extension lead) for €470 on Capel Street.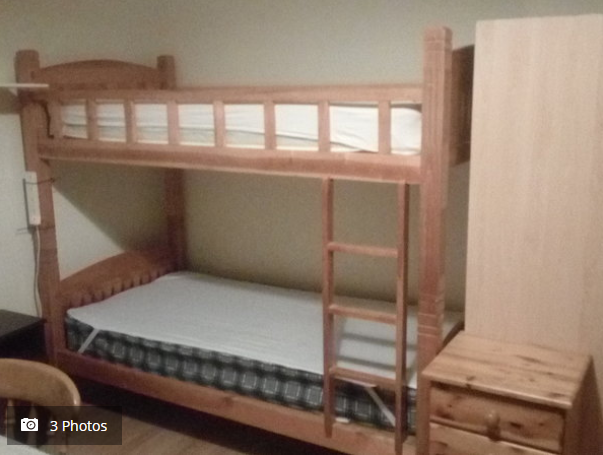 Daft Daft
8. Clearly the person behind this property never studied the kitchen work triangle in Home Ec.
It's completely fair to say that the minimum expectation every human has for a kitchen is that you can open the oven door every day without having to move every piece of your furniture in your gaff around like a tedious game of Tetris with plastic white electronic appliances instead of Tetris shapes.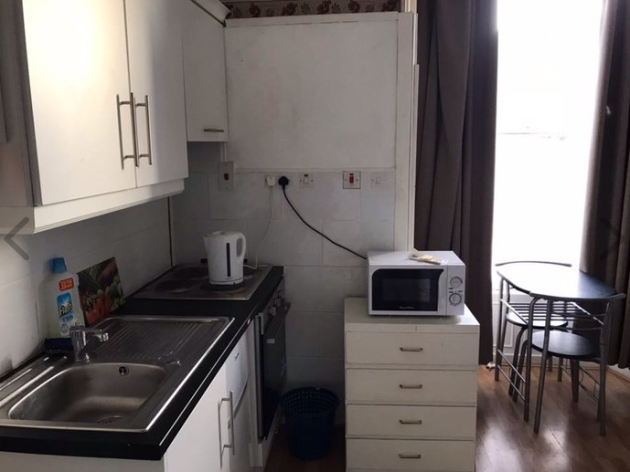 Daft Daft
9. For €900 you could spend a month sleeping on a sofa bed in Balbriggan.
No human being should have to sleep on a sofa bed for longer than a couple of nights at a time every once in a while.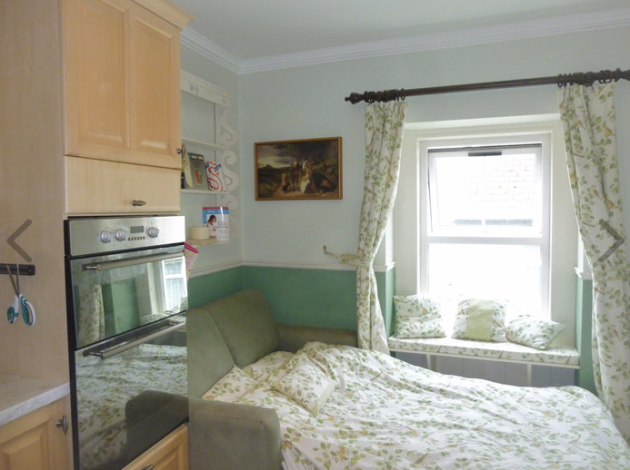 Daft Daft
10. The many properties that featured ovens like this:
It's actually a bit of a feat to be the owner of an oven like this while living in an urban area. It's a long, long time since Power City had anything like that in stock.
Daft Daft
11. This €650 Dublin 8 studio apartment that looks like American Horror Story: Your Home Ec Class.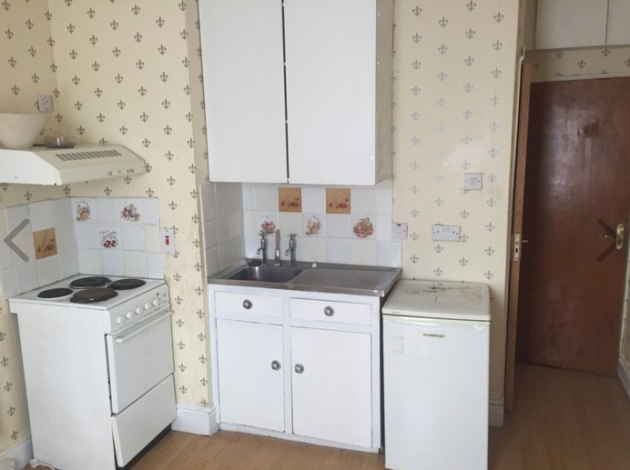 Daft Daft
12. This Portobello studio apartment where you could literally cook dinner while sitting on your bed.
Daft Daft
It might be relatively nicely decorated, but remember this costs €936 per month and on the other side of the bed, there are some really strangely placed floor lamps.
Daft Daft
We're sure a lot a couple of things are crossing your mind right now, but we have to point out that the person responsible for designing this room could not have possibly chosen a more inefficient selection of lamps.
This tenant's going to be short on space. They don't need a lamp on a tripod taking up their entire floor-space and most of the surface area of their bedside locker.
So that's it for 2017.
Let's hope the situation improves in 2018, but until then, we'll be here to call out inordinately expensive properties that look like their appliances were retrieved from the electronic recycling bin in Power City.
DailyEdge is on Instagram!