A SERIES OF tweets went viral last night, when a disgruntled chef took to his former employer's account to vent about getting fired.
The account, belonging to The Plough pub in  Oxforshire, posted about the fact that their chef had been fired because 'he wanted to have a weekend off this month and Christmas Day this year for family commitments.'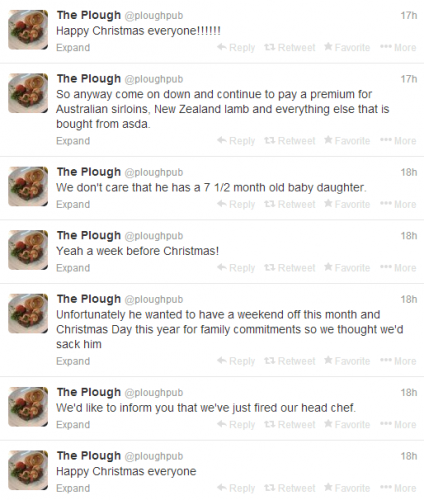 The tweets, which remain posted, are thought to have been written by Jim Knight, who tweeted from his own account that he had not 'hacked' anyone, as the pub account had been created by him in the first place.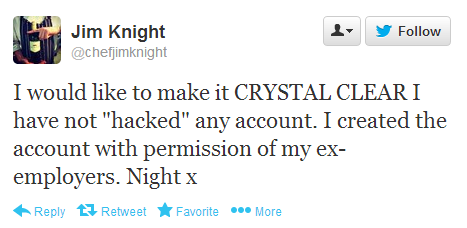 He also said that there was nothing that would make him miss his daughter's first Christmas.
This morning, he tweeted that he has been offered a new job, as well as changing his Twitter profile to reference the incident.
According to The Mirror, the pub's landlord stands by their decision, saying:
When Jim, as head chef, informed me that he would not be working on Christmas Day, and other Sundays in the near future, I was left with little choice but to end our arrangement.  I had been quite clear with him when he started here that Sundays are our busiest days of the week, and that all our chefs have to work that day.
Jim however, is standing by his comments.

The pub should probably consider starting a new Twitter account.