WHEN NETFLIX DECIDED to reboot Queer Eye, everyone expected a slicker version of the noughties classic.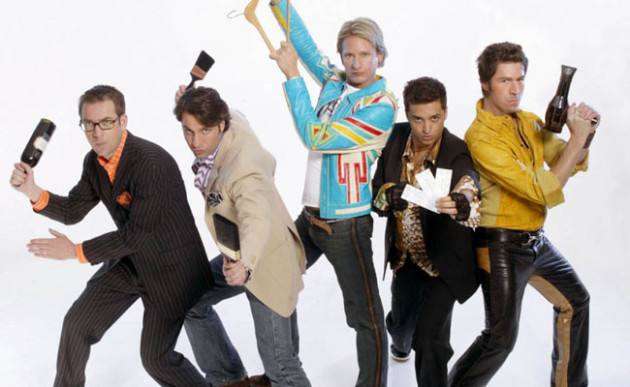 The originals
Who expected an emotional exploration of queer culture — and perhaps the best show currently on Netflix?
Aside from being hilarious and entertaining, Queer Eye explores queer identity in relation to issues like body confidence, religious attitudes to the gay community, and police violence against the black community. Early on Tan, the fashion advisor, says" the original show was fighting for tolerance, our fight is for acceptance" and the show stays true to this ethos.
It has dispensed with the traditional makeover show format and overhauled it from a queer viewpoint.
In the (woefully short) series of just 8 episodes, the Fab 5 hammer home the message of self acceptance, approaching learning about these issues in the way queer people always have: from each other. LGBTQ culture has always thrived from its own style of peer-directed learning, simply because the representation was not there in the mainstream; our resources were each other and our queer icons.
When retiree Tom tells the Fab 5 that they might be able to change how he dresses but "they can't fix ugly", the peer-directed approach comes into action. Instead of just dismissing his insecurities and giving him a skin-deep makeover, they teach Tom how to love who he is and accept that flaws are part of being human but they don't lessen who we are as a person.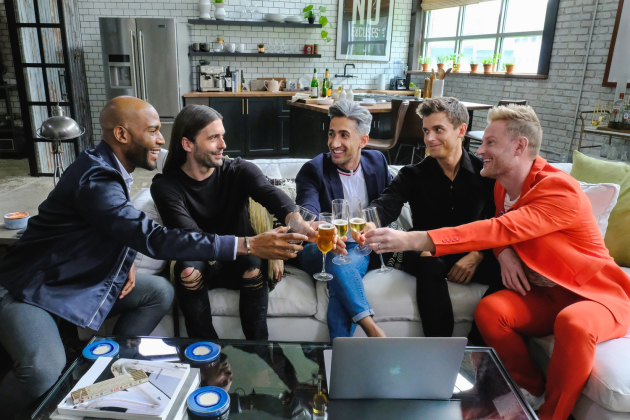 Taking a look at his life through the lens of food, social habits, wardrobe, grooming and his home, the Fab 5 allow a creature of habit to shape his life the way he wants it. Jonathan (arguably the absolute high point of every scene) teaches Tom how to care for his lupus and that making time for himself is not something that takes away from his manliness. Tan opens Tom's eyes at how to look at himself and see things he loves rather than things that needs fixing, making him feel confident about his body and see clothes as more than just functional.
AJ Brown and Karamo Brown
AJ Brown, a civil engineer who is not yet out as gay, is concerned about seeming and looking "too gay". The Fab 5 unpack AJ's apprehensions in relation to the prejudice and stereotypes; we hear about how difficult it was for Karamo being both black and gay, about how Bobbi grew up in a religious community where homophobia was rife, Tan talks about how his Pakistani family still ask if he will settle down with a nice girl. The Fab 5 break down the preconception that there is just one type of gay and show AJ, someone who hasn't fully come to terms with his sexuality yet, that being gay does not have to define him as a person. It's an important representation of some of the different sides of queerness.
The tone of the show is not transformation for the sake of it, as you'd expect from traditional makeover shows, it is watching people genuinely learn about themselves and about life through an exchange of learning from five queer men.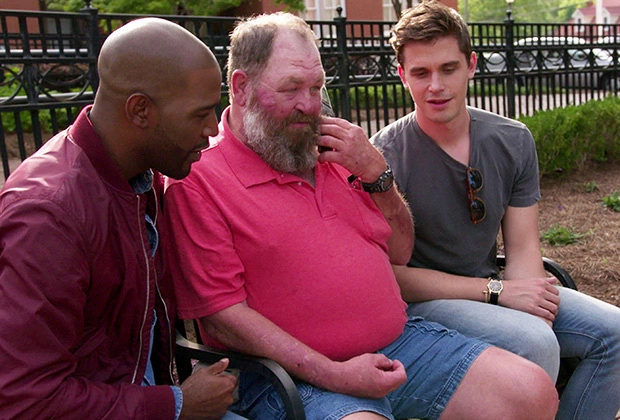 Tom
Queer Eye does not shy away from dealing with the politics of queer culture either. Instead it tackles each issue head on as it arises, deconstructing the problem at hand and teaching these men why for example, it's sexist to ask a gay married couple "who's the husband and who's the wife", leading to a wonderful moment, seeing a closed off and traditional man in his sixties learn how "there's gorgeous strength to be had in both male and female roles and that those traditional gender roles are more blurred now".
We are bombarded with opinion pieces from straight white middle aged men telling us that young queers are being too precious when they ask to be referred to using their preferred pronouns, yet when the Fab 5 meet Tom we see a really interesting thing.
As the retiree talks about his beloved recliner chair and classic cars as 'her' and 'she', we see ok, this isn't hard, this already happens in straight culture, it's just the fact it's LGBTQ people now asking for the same that's the problem. The way things like this are addressed in the show is really refreshing. Breaking down complex things like this, hopefully sets a new benchmark for queerness on TV.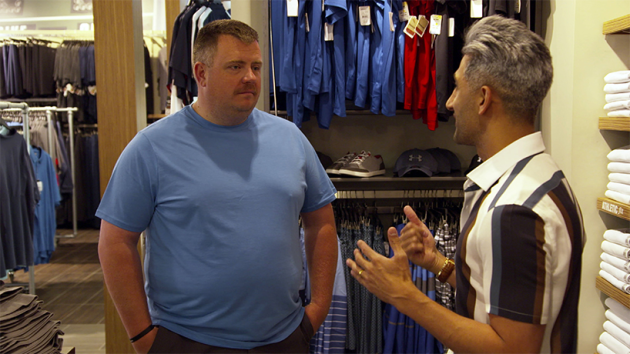 Cory
Episode 5 takes on the tone of a Louis Theroux Meets rather than the usual atmosphere of Queer Eye when the Fab 5 travel to Winder, Georgia to meet Cory, a Trump supporting policeman and Nascar fanatic. The tone changes when Cory's nominator (and fellow cop), pulls the Fab 5 over and asks the driver to step out of the car.
It is not until afterwards we find out this is a joke — but what follows is a tone changing scene that underpins the entire episode. For those of you who have yet to watch Queer Eye, Karamo is a black man and seeing his face drop when the cop car stops them is heartbreaking. "I'm very aware of this type of cop. The question is what we are being pulled over for".
As the episode plays out we see the issue of police discrimination against the black community come up again, with Karamo and Cory sharing a tense car journey where Karamo talks about how his son didn't want to get his driver's license because he was afraid he would be pulled over and shot by cops.
Similarly when the Fab 5 unearth Trump campaign posters and a Make America Great Again hat, the difference in outlooks becomes unignorable. The tone of the show is different from the other episodes and I wished the Fab 5 would walk out on this guy, I didn't want them to have to encounter men like this and I was sad that these perspectives had seeped into the amazing queer space they'd created.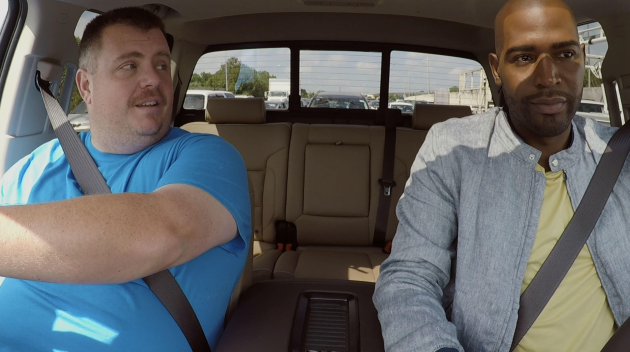 Cory and Karamo
Yet their approach to peer centred learning continued and we watch a literal Trump voter facing up to issues of police violence and gay stereotyping directly with the people this affects, while learning about himself and how to deal with emotional issues in a healthier way. The weight of scenes like these pack such a punch but it just underlines how Queer Eye has upturned the reality TV genre, and it has done this from a queer perspective.
Queer Eye is unapologetically queer and the traditional mechanisms of a makeover show are changed to operate in a predominately queer way. The Fab 5 do not meet these men in the middle or temper their approach, they vie for acceptance as they are, along the way teaching these creatures of habit that seeing the similarities between queer and straight people is more fulfilling, that using queer culture as the yardstick for self acceptance is not restricted to queer people, and monumentally, educating them about common misconceptions and stereotypes.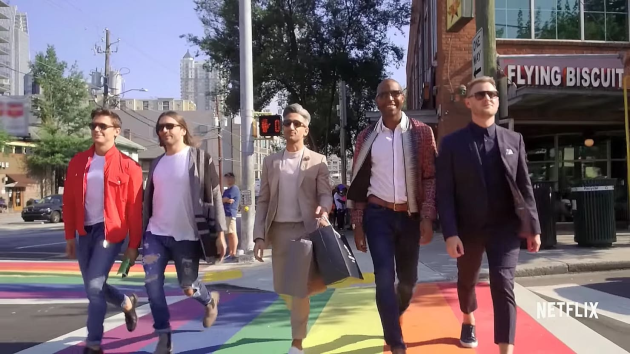 Netflix Netflix
It is not just important to see more queer people on our TV screens for the sake of diversity, but it is essential that it is not the fetishised version we already get, 'the token gay' or 'the gay best friend'. At a point in time where it seems like the world is getting worse rather than better, fighting for acceptance without sacrificing change and without diluting queer culture to make it more palatable is the way forward.
DailyEdge is on Instagram!