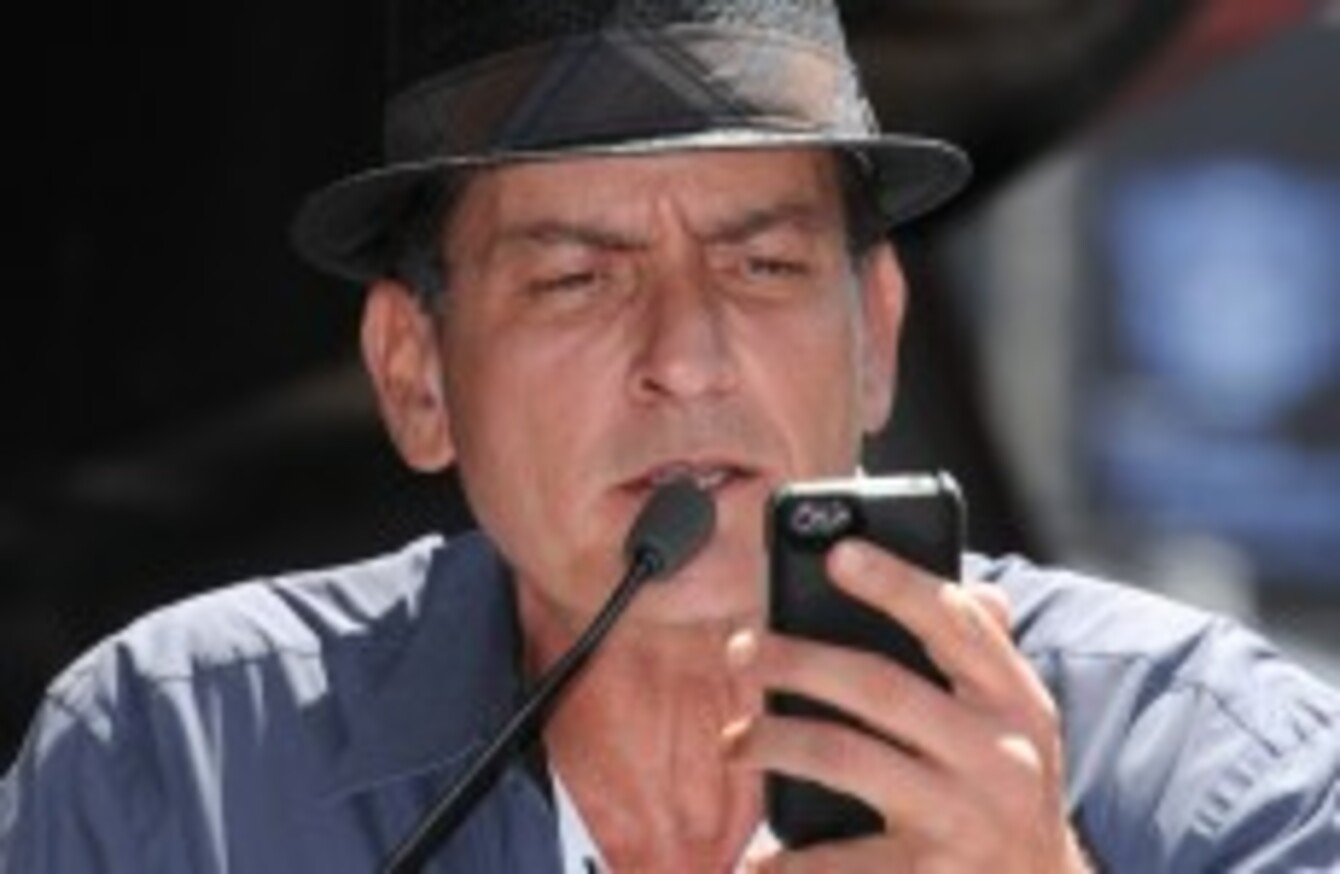 Image: Tammie Arroyo/UK Press/Press Association Images
Image: Tammie Arroyo/UK Press/Press Association Images
US GOSSIP SITE TMZ has learned that Charlie Sheen is to quit Twitter within days because he is unsure what he is 'getting out' of the micro-blogging site. Other than the attention of over 7.7 million people.
Earlier this week, the Anger Management star who documented his "winning" days on the social network (remember his first tweet was a picture of his 'goddess' Bree Olsen?), sent his followers a picture of clouds taken from inside the plane with the words, "reach for the stars everyone. dogspeed cadre. c out." It could be a goodbye but with celebrities on Twitter, you can never be sure.
Although some have managed to wean themselves totally away from sending 140-character messages, others' attempts at quitting resemble the difficult journey of a smoker or fad-diet addict.
Alec Baldwin
Follower count: 936,207
Handle: @ABFalecbaldwin
In December 2011, Alec Baldwin's account was deactivated after he tweeted about being kicked off an American Airlines flight:
After a tirade of tweets about the flight attendants, including this delightful endorsement - "#theresalwaysunited Last flight w American. Where retired Catholic school gym teachers from the 1950′s find jobs as flight attendants." – his account was shut down.
He lasted a respectable five months before reactivating it with the new moniker @alecbaldwin in April.
In typical yo-yo fashion, Baldwin quit the site once more at the start of this month, sending out what looked like a final hurrah: "It's been fun"
The message came days after his wedding to fellow tweeter Hilaria Thomas. However, there was to be another twist in the Twitter tale. On 5 July, the account was reactivated (again) but this time under the official guise of his foundation which supports the arts and both professional and amateur artists. So probably no more angry outbursts there then.
Lily Allen
Handle: @lilyrosecooper
Followers: 3,601,770
Lily Allen is not shy of having an ould spat on Twitter and she was making headlines again this week over a row with a member of the British Army. Sniper Lance Corporal Harry Wilson was singled out by the singer after he posted an allegedly racist comment and included her handle @lilyrosecooper.
On Thursday, following a torrid of abuse from supporters of Wilson, who had become the subject of an official army investigation, Allen threatened to leave Twitter for "a few days…maybe hours". She lasted about 180 minutes:
Allen had previously left Twitter (@lilyroseallen) in October 2009 when she became fed up with the Internet and technology as a whole – she even gave away her Macbook and Blackberry, according to friends to spend more time with her partner. Her other online clashes have seen her face off with Cheryl Cole and Piers Morgan.
James Franco
Handle: @JamesFrancoTV
Followers: 105,439
Actor. Director. Writer. is how James Franco describes himself on Twitter and he now uses it solely to promote those professional activities. But his Twitter life wasn't always so dull. Before he "quit", he was a fan of posting random and often bizarre photos of himself. Like this one:
(Image: celebuzz)
Giving his reason for bidding his followers farewell, he said:
Social media is over…My thought was 'This is my Twitter. I can do whatever I want.' But certain companies I work with contacted me about what I was saying.
His new, more professional (read: boring) account was reopened on 24 January this year and has attracted about 105,000 followers.
Ashton Kutcher
Handle: @aplusk
Followers: 11,430,638
The former Mr Demi Moore didn't so much quit Twitter as outsource it. Following an ill-thought out tweet about events at Penn State which led to the firing of football coach Joe Paterno, Kutcher decided to hand the management of his Twitter feed to a team at media company Katalyst. Although he still "expresses himself" through @Aplusk, editors at Katalyst ensure the "quality of the content".
His blog post which outlines the reasons behind his decisions makes interesting reading as it tracks Twitter's short life span from conversation to community-driven education tool to opinion centre to mass publishing platform to news generator.
A collection of over 8 million followers is not to be taken for granted. I feel responsible to deliver informed opinions and not spread gossip or rumors through my twitter feed. While I feel that running this feed myself gives me a closer relationship to my friends and fans I've come to realize that it has grown into more than a fun tool to communicate with people.
Sinéad O'Connor
Handle: @nomanswoman
Followers: 195
Like many things in her life, Sinéad O'Connor has had a turbulent relationship with Twitter. Her first account (the often hilarious @howryeh) was deleted in November 2011 after she claimed it had been hacked into.  "Its a shame as I've had great fun and want to thanks those with whom I shared fun," she said at the time.
Her first attempt at quitting didn't last long though. She was back in action under the moniker @vampyahslayah by December the same year.
Dear friends.. Am pleased to announce my glorious return to twitter for purposes purely of fun and giggle-ment.
The Irish singer has since closed that account and reopened another. Her latest offerings, including this picture of her freshly tattooed arm, are posted from then handle @nomansland which was activated on 4 July.
John Mayer, Nicki Minaj, Joey Barton and LeAnn Rimes are also among the ever-growing list of celebrities who just couldn't drag themselves away from their thousands of followers.
Mayer's profile says he's "back on twitter by popular demand" but his less-than regular tweets (his last was on 27 May and the one prior to that was 22 March) mean his 98,718 aren't getting much value.
If rapper Nicki Minaj stayed away, it would be one less place to pimp out her Roman Reloaded album which is plastered all over her feed.
LeAnn Rimes took a Twitter hiatus after her extra-marital affair with Eddie Cibrian was uncovered to "focus on her healing". But it seemed like she was back on track after just one week.
Hi twitter land! Miss u all and though I'd just say hello! I have so many darling fans and want you all to know how much u r appreciated…Hugs to all! Can't stay away for too long 

Obviously.
And as for @Joey7Barton, we'd like to see someone try and keep him quiet on any medium.
Despite the perceived difficulty at giving it up, some celebrities have managed to quit Twitter cold turkey. Everton footballer Darren Gibson probably holds the record for the shortest-held Twitter account in the site's six-year history. @dgibbo28 was up and running for just two hours before the Irish international called it a day. There were a number of reasons for his decision circulated at the time:
because he was unwilling to put up with any negative comments about his footballing abilities.
because he was driven nuts by the volume of tweets he was receiving by SMS.
because he couldn't be bothered (as stated by Rio Ferdinand - on Twitter).
However, fellow Irish international James McClean shut down his account in May this year for more serious reasons. After being called up to the Republic of Ireland Euro 2012 squad, the 23-year-old Derry native received death treats from angry Northern Ireland supporters.
Before deactivating the account, the footballer responded to such tweets with the following, which just fanned the flames:
Love the dogs abuse am gettin of shock N.I fans, just worry about watchin ur own country at the euros… oh wait #mybad #awkward haha.
RTÉ's Ryan Tubridy bid farewell to Twitter and his 60,000+ followers on 9 August last year. Luckily, TheJournal.ie got him to participate in our Twestion Time interview series before his signed off. He said there was no dramatic reason for his exit, just that he didn't have enough time to continue with his @tubridytweets account. Stay strong Ryan, we're all with you.