EARLIER THIS WEEK, it was announced that Radiohead would return to Ireland next summer for their first Irish show in eight year.
This was music to the ears of Radiohead fans all over the country.
Alarm clocks were set, knuckles were cracked and… oh wait they're sold out
Such was the demand for Radiohead tickets that people all over the country were met with the dreaded "Sorry, no tickets from venue currently available…" message at 9.01am.
9.01!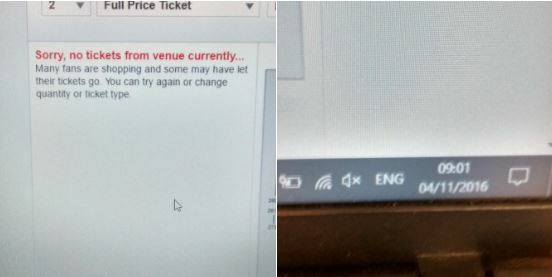 Edward Kearns / Twitter Edward Kearns / Twitter / Twitter
You might say they were left… high and dry
Ba-dum-tish.
And to add insult to injury, tickets were available on third party sites were extortionate sums shortly afterwards.
This despite the band's attempts to fight ticket touts by implementing a strict photo ID policy.
:(
Mood: dead inside
Honestly, it was silly to even think that one night in the 3Arena was sufficient
Bring Radiohead to Croker, tbqh.
That feeling when you get a ticket for Radiohead and none of your mates do…
It's fine. I'll just dance on my own.
Radiohead, if you're reading this: come for one more date, yeah?
DailyEdge is on Snapchat! Tap the button below to add!