YOU MAY HAVE noticed last week that the posters for Rihanna's Irish date this Friday were looking a bit different in parts of Dublin.
This is the original version of the ad: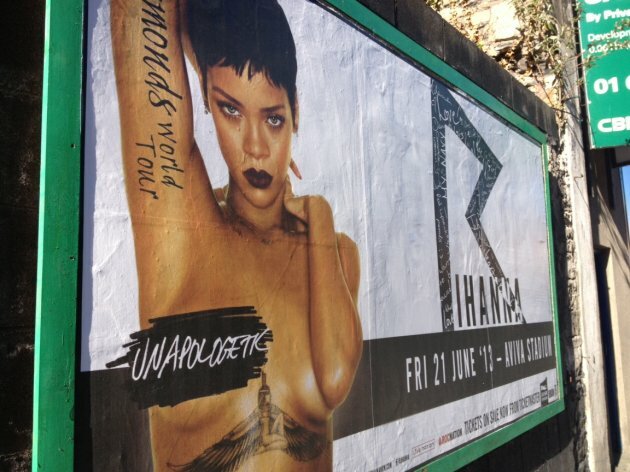 Emer McLysaght/DailyEdge.ie
And this is one of the ads that was then covered up to protect Rihanna's modesty:
Emer McLysaght/DailyEdge.ie
The story ended up going international with everyone from E! to Huffington Post reporting on the posters.
The identity of the person who covered up Rihanna's nude posters wasn't known until today when The Ray D'arcy Show on Today FM managed to grab one of the people involved for an interview.
D'arcy spoke to 22 year-old Dubliner Joanna who along with a friend stapled posters to Rihanna posters around Dublin city.
Joanna noted that while in a way it "was great fun" they had a message in mind for their dress stapling.
Because, according to Joanna "we're bombarded with so much in the media and in advertising with sexualised imagery" they wanted to "stimulate people to think about what effect that has on the dignity of the human person"
Niall Carson/PA Wire/Press Association Images
Calling the international attention for the posters "unexpected" Joanna outlined why changing the posters was significant for her (and her unnamed friend) and how we view images of nudity
If you're focussed when you're looking at a picture or a picture is leading you to focus on a person in an exclusivley sexual way or as an object that's not encouraging people to really appreciate the dignity and the beauty of that person as a whole
Claiming that it "cheapens sexuality to throw it up on a billboard" Joanna sought "to make people think".
Despite her Catholic background, she assured D'arcy that this "wasn't a religious statement".
When asked if she was worried about herself and her friend getting into trouble with the law Joanna pointed out:
It didn't cross our minds until we were putting up one top and two men stopped in a car and started talking to us and they were just like "So what are you doing?" and we talked to them for a while and they were in suits. I didn't think anything of it and towards the end of the conversation one of them went "Oh yeah we're from the local Garda station by the way"
Laughing about it with D'arcy, she explained:
I asked if we were in trouble and they said no and drove away and we weren't fearful after that.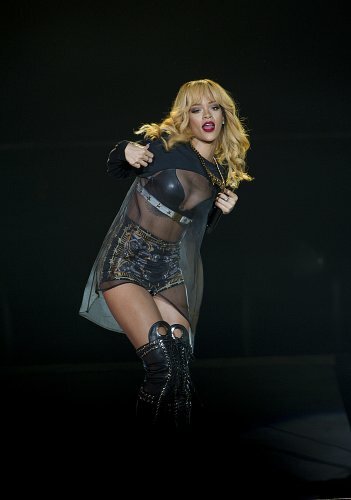 Katja Ogrin/EMPICS Entertainment
So while Joanna and her dress-stapling buddy may not be in trouble with the law she says she won't be in town when Rihanna plays her show this Friday.
"I know a couple of her songs from the radio or whatever" she said when discussing the popstar but she says "I can't say I know enough about her to have an opinion"
Looks like Joanna and her mates won't be down the front bopping away to Diamonds so.