IF YOU HAPPENED to be wandering the halls of the Institute of Technology, Carlow this week you would have noticed two things.
Firstly, it's SHAG Week in the college – so there's a bit of a buzz around the place. Secondly, this giant rodeo penis took pride of place in one of the rooms: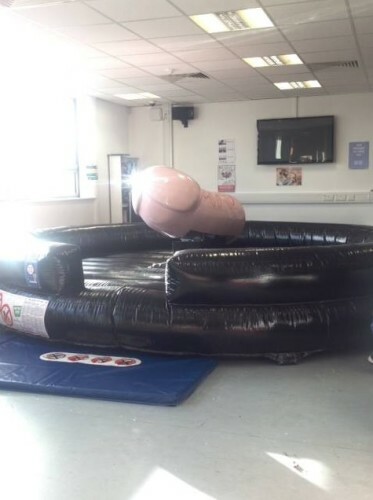 Facebook Carlow SU Facebook Carlow SU
Standard stuff.
Look at it there:
Given SHAG Week is the week on campus devoted to Sexual Health Awareness and Guidance, the Students' Union in IT Carlow thought they would take a spin on the normal student bar rodeo to get the word out there – and it's worked.
As Lorna Fitzpatrick of the SU writes on Facebook:
The rodeo was a small fun element of this highly important campaign. It was a way to break the ice and reduce the stigma some people may have around talking about their sexual health.
A worthy cause:
Talking about consent, empowering people to know what they like and don't like, and the importance of getting regular STI checks are the main messages of this campaign, but why not incorporate some fun?
Good work, everyone.