RON BURGUNDY WILL soon be publishing a book. Here is the cover.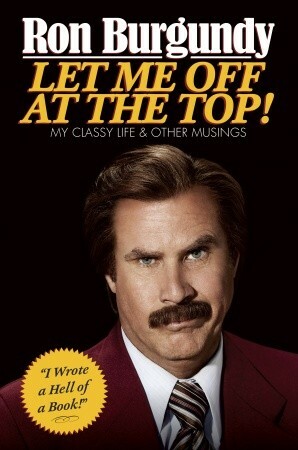 Random House Random House
Entitled Let Me Off At The Top! My Classy Life & Other Musings, the tome is (according to its publicity) "a shockingly candid and raw confessional from a national treasure".
It goes as follows:
From his humble beginnings in a desolate Iowa coal mining town, his years at Our Lady Queen of Chewbacca High School to his odds-defying climb to the dizzying heights of becoming America's most trusted and beloved television News Anchor, Ron Burgundy pulls no punches in Let Me Off at the Top!  In his very own words Burgundy reveals his most private thoughts, his triumphs and his disappointments. His life reads like an adventure story complete with knock down fights, beautiful women and double-fisted excitement on every page.
And what will we learn about Ron? Well, here's the author description:
Ron Burgundy is an award winning News Anchorman and poet. He lives with his wife, Veronica and dog Baxter in San Diego California. When he is not making models of 18th century sailing ships he can often be found on the deck of his own boat, The Shining M'Lady or supervising archeological digs in and around his back yard.  This is his first "book."
It's published on November 19, ahead of the release of Anchorman 2 on December 20. I have many leather-bound books and my apartment smells of rich mahogany.