OH WHAT WOULD life be without constant fretting about British Open winner Rory McIlroy's love life?
After he called off his wedding to tennis player Caroline Wozniacki in May speculation has been rife about which way his heart is 'swinging', and what lucky lady might be 'driving' his emotions.
(Please excuse the golf puns. We're in a glass 'bunker' of emotion)

Tumblr Tumblr
In recent weeks he's been linked to Irish model, singer and friend to John Delaney  Nadia Forde, despite her repeated insistence that there is no romance between her and McIlroy.
NEVER MIND ALL  THAT NADIA! WE HAVE HEADLINES TO WRITE!
Now though, there's a new girl in the spotlight, with both the Irish Sun and the Irish Daily Mirror splashing it on their front pages. With near-identical headlines. And not one mention of a 'hole-in-one'. Very restrained.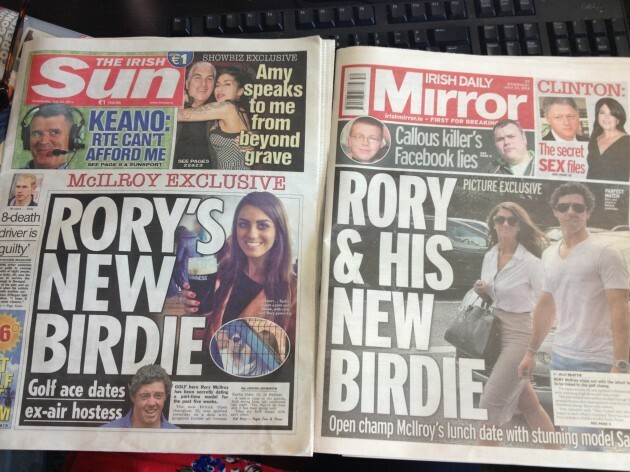 So what do we know about this (alleged) future Mrs Will He Play For Ireland Or Won't He The Louser?
Her name is Sasha Gale
She's an English model
She's 23
She went for lunch in Belfast yesterday with McIlroy
She has hair and legs and teeth, all of which you will see described in minute detail over the coming days/weeks
She used to be an air stewardess
She's small in stature (she calls it travel-sized) so will be able to wear high heels with her (alleged) new man. Unlike Caroline Wokniacki
So now. More as we get it. Our nerves.