IF YOU LIVE in Ireland or hail from here, it's very likely you've heard of, or indeed, have experience of a skin condition known as rosacea.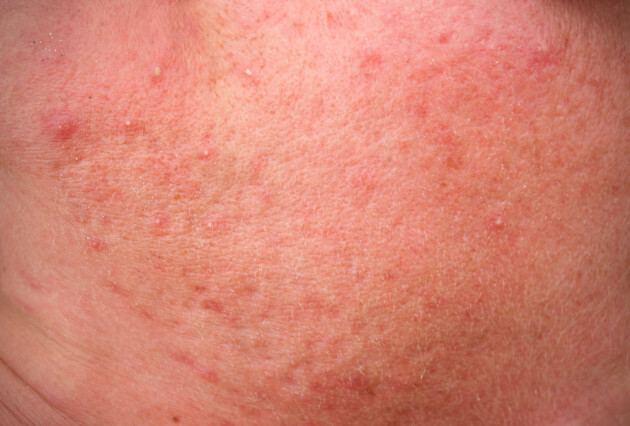 Shutterstock / Zeljko Radojko Shutterstock / Zeljko Radojko / Zeljko Radojko
Common among Irish people or those of Celtic origin, roscea is a rash, most frequently found on the face, which is characterised by redness, small bumps and dilated blood vessels.
Given the number of people who present with the skin disorder, DailyEdge.ie chatted with Jennifer Rock, aka The Skin Nerd, about the ins and outs of a condition which is particularly common among her clients.
"It is more common in women – slack is never cut when it comes to us – but men tend to have more severe rosacea," Jennifer explained.
"There are actually four subtypes of rosacea, and the symptoms slightly worsen as you move up the scale," she continued.
Four? OK. let's go through them.
Subtype 1, or erythematotelangiectatic rosacea, is typically what most people think of when they think of rosacea. The symptoms may include redness, flushing and small blood vessels becoming visible through the skin, as well as itching, burning and a rough texture.
"With subtype 2, which is commonly referred to as acne rosacea, you may see pustules. which are small bumps, across the skin, redness, swelling and plaques, aka risen red patches of skin," she explained.
With subtype 3, the skin may become thickened with an irregular texture while subtype 4 is ocular rosacea, where the eyes become irritated and possibly develop sty-like lumps.
If you're wondering what exactly causes the condition, it's worth focussing your attention on mites for a moment.
"Intriguingly, those who have rosacea are believed to have more of something called the Demodex mite," Jennifer explained.
Now listen, don't panic.
If this is the first time you've heard about having facial mites, do not fret nor call the exterminator, as we all have them. These little microbes are like dead skin cell hoovers that gobble up waste.
 OK, tell us more…
Sometimes up to 15 to 18 times the amount of Demodex mites are found on the skin of those who suffer from rosacea as compared to those who don't, and those with subtype 2 found relief from skin sensitivity when the amount of Demodex was reduced.
But remember…
It's important to note that this has not been studied to anywhere near the extent of the connection between acne and what may cause it, for example.
So let's say you're currently exhibiting any of these symptoms, what's the next step?
Jennifer discourages you from burying your head in the sand – metaphorically speaking – and urges you to seek an appointment with your practitioner.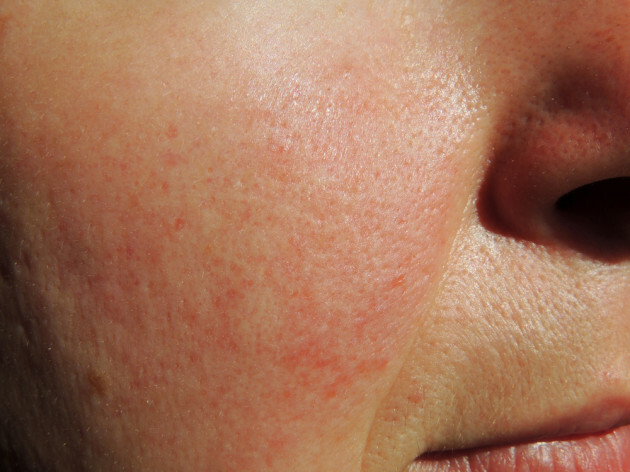 Shutterstock / Ishtvan Rishko Shutterstock / Ishtvan Rishko / Ishtvan Rishko
"Speak to your GP or a medical professional," she said. "Do not wait, as rosacea tends to worsen if left untreated."
In Ireland in particular, we tend to leave many skin conditions until they are unbearable and causing us daily suffering. This is never the way to go.
Once you've had your skin assessed by a professional, it's highly likely you'll begin reconsidering the contents of your make-up bag, right?
Well, thankfully, there are lots of brands, hundreds of ranges, and thousands of products out there that are formulated for rosacea sufferers, Jennifer tells us.
IMAGE Skincare, one of my all-time favourite cosmeceutical brands, started with the Vital C range, mild, vitamin C products created by founder Janna Ronert as she herself suffered from rosacea.
"I believe vitamin A to be vital for those with rosacea, and we would usually recommend Environ Skin Care for this, " she continues.
"Cosmetic and cosmeceutical skincare can assist with the symptoms of rosacea alongside the advice of a GP by introducing ingredients that help to soothe and protect the skin."
"When it comes to makeup, mineral makeup is ideal for those with rosacea as it doesn't contain some of the more irritating ingredients you find in cosmetic makeup."
Powder formulations tends to be the purest of the pure when it comes to mineral, such as Fuschia Loose Mineral Powder.
OK, so you've identified the symptoms, spoken to your practitioner and overhauled your cosmetic collection, what should you expect going forward? 
Unfortunately, rosacea is a life long condition, but identifying your triggers goes a long way towards avoiding flare-ups and reducing symptoms.
People with rosacea tend to have different triggers, ranging from spicy food to the weather. Identifying your triggers and reducing them where possible often makes sufferer's lives easier.
"When we consult with someone with rosacea through our online skin consultations, we emphasise the importance of lifestyle and environmental factors that could be triggering rosacea flare-ups," Jennifer adds.
And the take-home from all of this?
"Between medical advice, a solid, non-irritating skincare routine and avoiding triggers, there is a light for those with rosacea."
DailyEdge is on Instagram!