LAST NIGHT, WE found out that Nicola McEvoy from Luxembourg is the loveliest, fairest and holds the most truth in her eyes "ever dawning" of the 32 Rose of Tralee contestants.
For those feats, she was crowned/tiara-ed the 2012 International Rose of Tralee. But that wasn't all that happened in the Dome – here are just six more of the most memorable moments.
1. Dáithí wears a pair of stilettos
And yes, there were jokes about his Rose of Tralee wife Rita and Anne Doyle.
2. The magic trick that wasn't
Sarah Doherty's talent was to perform a magic trick on stage. As we said last night, the Roses all rehearse their segments but that would have taken from the authenticity of the South Australian's performance. Unfortunately, she didn't get it right. AT ALL.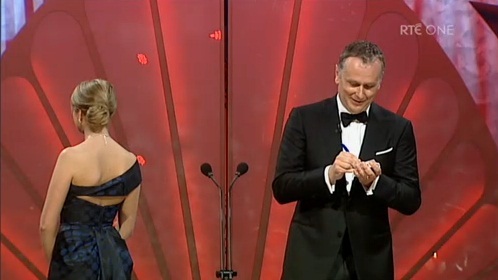 3. Catherine Sherry won't let Dáithí help
So, the seasoned presenter had to ad lib until the Tyrone Rose was ready to perform her slip jig. And this is how he expertly did it:
"And she has only one shoe on. My God almighty…That's ok Catherine. No problem at all. I'll just fill time here.
Oh yeah, of course, the weather is coming live from here as well with Gerard Fleming. Did you see the weather last night? Yes, he's a legend. I gave 12 years of TG4 trying to be like him. It just didn't work out, did it? [Silence]
Oh the socks have to go on now [Catherine from the distance: 'these things take time'] Hang on Catherine, I just have to help you here now. Are you alright? Are you sure? The hair is lovely. The hair is great. And your uncle's eyebrows are looking great as well. And the hair piece is looking well…
Why she couldn't do it in her bare feet is beyond me? She's just looking for air time for Tyrone. Oh, you need my help now? My god almighty. You'd swear we'd this rehearsed. Mother of god, how many more layers are there. Lovely."
4. The banners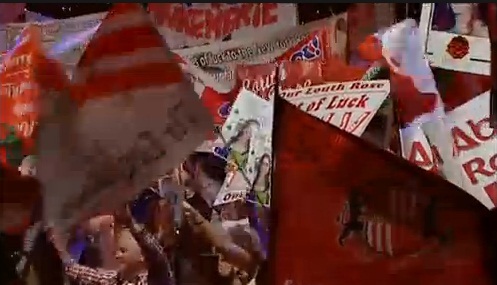 There are people under there. We presume the size of the girls' banners was included in the judging criteria. Why else would they exist?
5. Dáithí's reactions
He really was trying his best even if his interview technique lacked actual questions.
6. ROG's, eh, reactions
If Ronan O'Gara was only in the Dome because of contractual requirements with Newbridge Silverware, he didn't show it. This was our first glimpse of the Munster man. Is he texting? Reading the programme? Taking a nap? Suggestions to the comments section.
His next appearance happened on stage, when he less-than-expertly sashed the new Rose before scarpering off to leave Tara Talbot to fix his two-sash mess.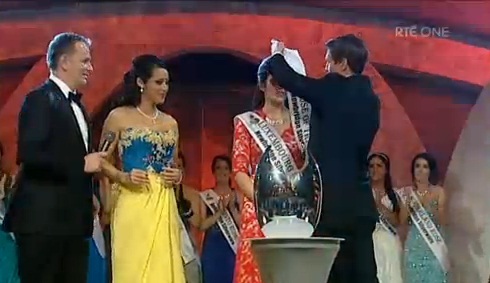 Ok then, maybe there was some contractual commitment.
Bonus: this wasn't last night but it was remiss of us not to have mentioned the Rose Buds before now. The tiny, mini-me girls in fancy dresses who…well, we're not quite sure what they are meant to do other than be a little bit cute in an awkward and uncomfortable way. Anyway, here they are singing Happy Birthday to a skincare brand. Yes, a song for the birthday of a skincare brand. Enjoy.