AS 2017 DREW to a close, Netflix announced it would be adding Friends to its streaming service in the new year.
Considering it had been in syndication for 23 years at that stage, the announcement was met with a relatively subdued response from viewers who had been following the six-piece since their debut in 1994.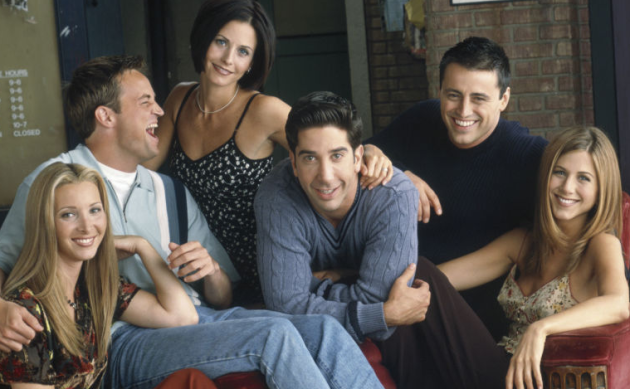 Unsurprisingly, however, Netflix's new addition gave rise to a whole new generation of fans, who had heard tell of these caffeine-addicted twenty-somethings, but hadn't been fully exposed to the characters and storylines that gripped millions of viewers for an entire decade.
Indeed, they were afforded the opportunity to assess the Manhattenites from a new perspective, and it wasn't long before a dialogue developed around the gang's casual sexism and homophobia.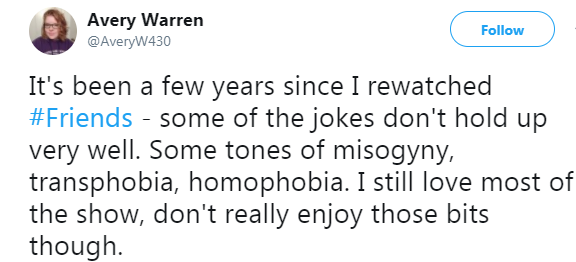 AveryW430 / Twitter AveryW430 / Twitter / Twitter
And then attention turned to Ross Geller.
Back in the day, the character of Ross was viewed through a sympathetic lens.
He was a dinosaur-obsessed dork in high school, his wife left him for a woman, and his friends made fun of his chosen career.
Oh, and he was head over heels for one-time head cheerleader, Rachel Green, and in true Ross-style, it wasn't long after finally getting with her that he lost her again.
Ross wasn't like uber-player Joey or commitment-phobe Chandler, he was the nice guy.
Or so most of us thought.
However, Netflix's decision to add the show to their service has shone a light on the intensity of Ross's character, and the fact that his flaws were often written off during the height of the show's popularity.
elizabethpink / Twitter elizabethpink / Twitter / Twitter
Regular flashbacks to Ross' adoration of Rachel in highschool laid a foundation for misplaced acceptance of his subsequent behaviour, and sporadic references to Rachel's teenage dismissals provided a platform for viewers' misguided tolerance.
But at the end of the day, Ross was a bit of an a**hole.
He was possessive, condescending, controlling and everything a viewer wouldn't accept of characters like Joey and Chandler.
A guy like Joey would not get away with humiliating his girlfriend in front of her friends simply because she was delayed getting ready for his work night out.
A person like Chandler would not get away with using a woman's relatively low-paid job as a reason not to be with her.
And neither character would be forgiven for jeopardising their partner's career on account of their insecurities.
Viewers wouldn't have accepted it, because promiscuity and flakiness would have been punished back in the day.
But Ross had – remember – all the hallmarks of a nice guy.
As far back as episode 1, we were conditioned to ultimately feel sympathy for a man who would use a woman's job as 'a'con', jeopardise his girlfriend's career because he felt threatened by her co-worker, and manipulate the mother of his child into foregoing a promotion.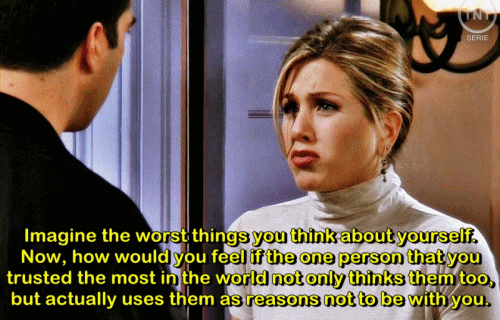 And this is why many of us seemed to at best dismiss, and at worst, justify his behaviour.
It simply – and perhaps most horrifyingly – came down to the fact that Ross was the dork who could never get the girl.
We bought into this theory; hook, line and sinker.
Is it any wonder he acts likes like a lunatic now that he finally has Rachel? Sure, the fear of losing her has rendered him blind to his shortcomings.
He's damaged enough as it is following multiple divorces, surely we can forgive him his flaws?
We championed Ross because we were conditioned to do so, and we wrote off his shortcomings because we were drip-fed just enough nice-guy traits to stave off indignation.
But here's the thing, there's no way the same tolerance would have been shown to a female character.
Surprisingly, Ross was – and still is – one of the show's most popular characters, but it would be folly to suggest the same reverence would be given Monica, Rachel or Phoebe had they displayed the same characteristics as David Schwimmer's character over the course of the show's ten-year run.
On a break or not.
DailyEdge is on Instagram!